German version
If this newsletter is not displayed correctly please click here
Swafing GmbH
Bentheimer Str. 175-179
D-48529 Nordhorn
Phone: +49 (0) 5921 - 3053 - 0
Telefax: +49 (0) 5921 - 3053 - 33
Email: info@swafing.de
http://www.swafing.de
General Director:
Hans-Gerd Swafing
AG Osnabrück
HRB 208964
USt-IdNr.:
DE 297 396 000
Dear valued Swafing customers,
we are happy to announce our new Swafing designer fabrics "Birds on a Wire" by bienvenido colorido!
Remember? Preordering our popular designer fabrics is much easier now:
During the specified time period for each special offer, you will have the opportunity--Thursday to Monday--to choose just the right fabrics to compliment your current selection and that match your style and taste at your own leisure. The lead time for the new fabrics begins at the end of the ordering period and should last only about six weeks.
For logistical reasons, the lead times for special offer fabrics are determined separately: for this reason, we cannot combine shipments of special offer fabrics with other items we stock.
Preorder the new bienvenido colorido "Birds on a Wire" sweatshirt jerseys in the Swafing Online shop from Thursday, October 6, 2016 to Monday, October 10, 2016.


Birds on a Wire in the Swafing Online Shop

(This link will be activated at the start of the special offer pre-order time period on October 6, 2016).




New! Special offer fabrics will be available for pre-order in the Swafing Online Shop (www.swafing.de).

Take your time making just the right selection during the pre-order sale period.
Birds on a Wire - Sweatshirt jersey by bienvenido colorido
Designer Cornelia Simboeck was inspired by a piece of art at her grandmas house: It showed swarming birds huddling closely together on power lines.
Her new fabric design works well for both women's and children's wear. This lightweight sweatshirt jersey does not have a brushed fleece reverse and is comfortable against the skin all year long. The fabric carries "Confidence in Textiles"/Oeko-Tex 100 certification. This 240 g/m², 95% cotton/5% Lycra/Elastan blend fabric moves with the wearer while retaining its shape.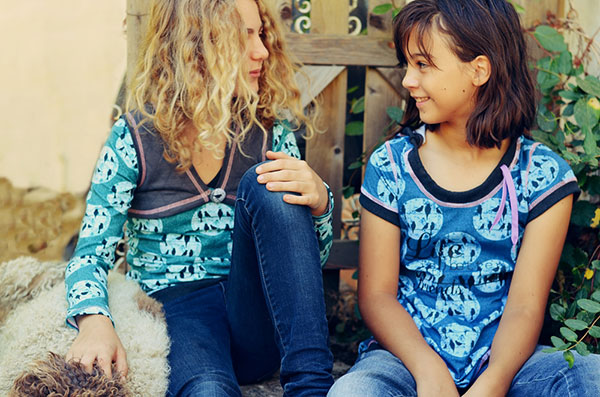 bienvenido colorido's "Birds on a Wire"/ come to you in three colorways: The sweatshirt jersey collection, featuring denim blue, dark grey and teal are sure to please both children and adults alike.
Design example from "Birds on a Wire" in dark grey and Suva Jacquard in grey: Hooded raglan jacket Paula by bienvenido colorido (All Sewing patterns in this newsletter are available at Farbenmix.de)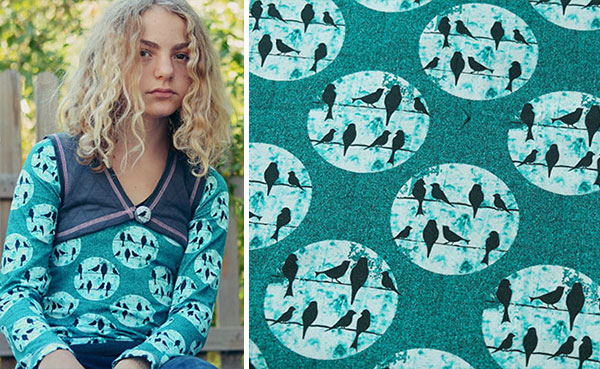 Design example from "Birds on a Wire": Shirt Noelita by bienvenido colorido in teal (vest made from quilted knit jersey silke in grey) and Shirt Rosita in denim blue.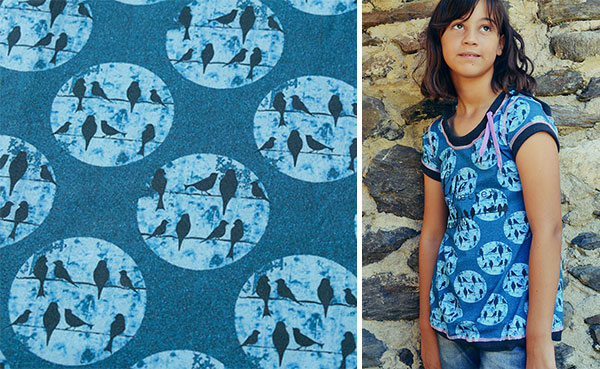 From Thursday, October 6th, until Monday, October 10th, bienvenido colorido's "Birds on a Wire" sweatshirt jerseys will be available for pre-order.
Promotional Images:
Promotional images for these fabrics are available for download via the Swafing blog. ->
Swafing promotional images "Birds on a Wire"
To support the promotion and sales of the new designer fabrics in your store or online shop, please feel free to use our promotional images. Please keep in mind that the images made available for download are for use in sales and promotion of the fabric, however, all rights to the images remain with the rights holders.
Enjoy your new designer fabrics from Swafing!
© 2016 Swafing & bienvenido colorido• Images protected under copyright.