Dear valued customer,

We're off to Cologne!

We would like to invite you to come join us at our booth at the h+h Cologne, the international trade fair for creative handicrafts and hobby supply. You will find us there March 18-20, 2016 at stand C031/D30, in Hall 2.2, directly adjacent to the large lounge area.

Discover the many exciting highlights we've reserved just for this show, including new designer collections hot off the presses, brand new fall and winter collections for 2015/2016, fashion apparel fabrics, quilting cottons from America, our extensive Basics collection and so much more!

We are so excited to have several of your favorite designers introducing their newest collections for Swafing at our booth.



Some of the highlights presented in this newsletter may be ordered only during the fair in Cologne! 
We will not be accepting any orders for these fabrics by telephone.
Should we have any leftovers, those may find their way into the Swafing Online Shop or may be made available some other way. However, we will not know how nor how much until several days after the trade show has ended. We will let you know as soon as we know.
Available exclusively at the h+h: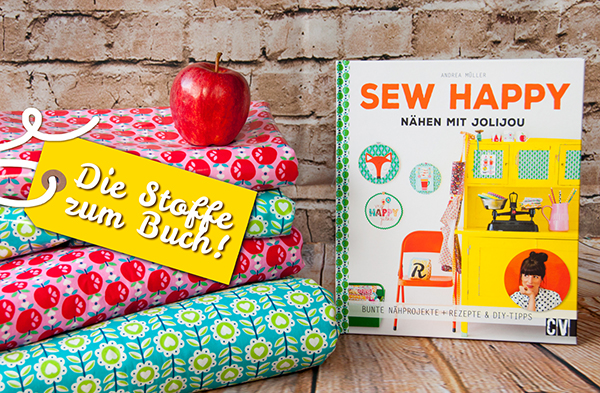 Sweet Apple & Daisy in Love - Cotton Broadcloth & Laminate
"Sew Happy - Nähen mit Jolijou" ("Sew Happy - Sewing with Jolijou"; currently only available in German) is the title of the latest coupe from talented all-rounder Andrea Müller of Jolijou. Andrea, a beloved Swafing designer recognized for her folkloric style, who also designs accessories and sewing patterns, will be presenting her new sewing book at the h+h Cologne.
We will be offering the new Jolijou fabrics as found in the book exclusively at the h+h Cologne to our registered wholesale customer only. Get excited for "Sweet Apple" in pink and "Daisy in Love" in teal as both cotton broadcloth and as a high-quality laminate.  More images...
Available exclusively at the h+h: expected delivery mid-April
Splish Splash Knit Jersey from Bienvenido Colorido
It's anchors aweigh at Swafing with two new maritime designs in three fresh colourways in our very best Swafing "Confidence in Textiles"/Oeko-Tex 100 certified knit jersey. These knit jerseys come to you in the colours of the sea; whales, dolphins and swirling fish splish and splash about on light turquoise, fresh mint and cool demin blue. 
Available exclusively at the h+h: expected delivery mid-April
Exclusice Knit Jersey and Sweatshirt Jersey at the h+h Cologne
Swafing will be offering several new knit jerseys and sweatshirt jerseys featuring much requested motifs, such as horses, different children's designs and big polka dots, premiering at the h+h Cologne.
Available exclusively at Swafing: expected delivery mid-April
A fresh retro-modern look: byGraziela "Kleejersey" from Swafing!
"Kleejersey" from byGraziela will be made available for purchase by registered Swafing wholesale customers exclusively at the 2016 h+h Cologne. Following the trade show, we will announce a second, limited sale of the fabric in the Swafing Online Shop. This second offering of the fabric will be delivered at a later date than the first. Retail customers can expect these wonderful shamrock fabrics to arrive in your favourite fabric shop by the end of April, 2016. Read more ...
Available exclusively at Swafing: expected delivery by the end of April
BYGRAZIELA PERMITS THE COMMERCIAL SALE UNDER THE FOLLOWING CONDITIONS. PLEASE NOTE, THAT AS A COMMERCIAL SELLER YOU MAY BE RESPONSIBLE IN CERTAIN INSTANCES TO UPHOLD DURABILITY AND COLOURFASTNESS STANDARDS FOR YOUR PRODUCTS ACCORDING TO ACCEPTED TESTING METHODS (FOR EXAMPLE, MARTINDALE) AND TEST EVERY COLOR OF EVERY DELIVERY OF FABRIC YOU RECEIVE.
Fashion fabrics in hotly trending colours
We will be presenting the new Swafing Fall/Winter 2016/2017 collection at the h+h Cologne. We will be highlighting the newest trending colours, such as Dried Herb, Oak Buff, Marsala, Harbour Blue and Cashmere Rose, on many different varieties of material. These new colours are a constant theme in a large portion of our Fall/Winter collection and will allow for perfect mixing and matching across several design collections.
The Fall/Winter 2016/2017 fabrics will be ready for delivery by mid-August.
New: For the first time, we will also be offering exciting collections from our three Swafing designers. These exclusive fabrics may be ordered at the trade show and may also be ordered for a limited time after the show as part of the complete Fall/Winter collection.
Please note, that designer corduroy fabrics are in limited supply!
Fall/Winter 2016/2017 Designer Fabric Collection:
Available for preoder at the h+h cologne trade fair, The Fall/Winter 2016/2017 fabrics will be ready for delivery by mid-August.
Cosy me from Cherry Picking
Designer Anke Müller loves to bring excitement to fashion by adding something unexpected. Anke's "Cosy me" sweatshirt jerseys are once again a play on contrasts. The razor sharp digital print reproduces the wool fibers and the knitted structure to look deceptively real. And you really only take notice of the trendy pixelated look of the flowers with a change in perspective. More Images ...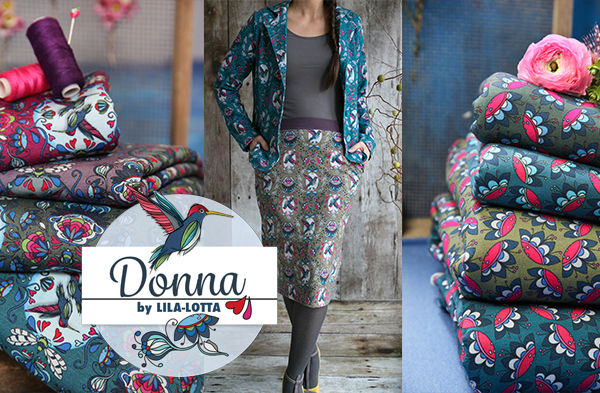 Donna from Lila-Lotta
Sandra Prüssmeier introduces to us her first comprehensive women's collection "Donna". "Donna" comprises of wide array of material choices. For just about every proclivity and project idea, the right fabric has been included in this richly-toned, all-encompassing collection. The new Lila-Lotta collection was designed with women's apparel in mind, however, nothing says you can't also using these fabrics for children's wear. This broad and colourful collection on high-quality material uses all the on-trend colours for 2016/2017. You will find teal, marsala, different green tones, pink and grey, all presented with Lila-Lotta's special flair. Delicate hummingbirds, graphic blossoms, decorative medallions, gentle dragonflies -- so much to discover! More images ...
Harvest Blossom from Jolijou
Spring hasn't yet sprung, but "Harvest Blossom" is already having us look forward to next fall! This colourful Jolijou collection simply enchants on high-quality knit jersey and a cuddly baby wale corduroy. These colourful "Harvest Blossom" designs will surely brighten up your fall wardrobe. Jolijou's cute squirrels, amid leaves and acorns, create a lovely folkloric damask. A lovingly crafted design, which offers much discover without becoming too distracting. Red/lavender or green/blue: The Jolijou's happy fall colours will surely keep the winter blues at bay.
My Dear  & Lotus from Cherry Picking
"My Dear" is a basic fine wale corduroy collection, which you can use in all kinds of ways. It works just great for clothing and handbags, and can be used as a main fabric or to add detail. These "My Dear" corduroys are for your big and little dears alike and can combine in any number of ways with many different colours. More images...
Vigo knit jersey from Lila-Lotta
"Vigo" is the second series in the new Swafing Fall/Winter 2016/2017 collection from Lila-Lotta. This expressive floral illustration has the illusion of growing up toward the observer, the way flowers in nature reach for the sun. The geometric background pairs harmoniously with the companion design featuring triangles in hotly trending colours. Tiny triangles cluster in eye-catching fashion on the second "Vigo" design. More images ...
Handbag fabrics and many more...
Weathered look faux leather "Maro"
We have searched high and low for a good replacement for our much beloved faux leather "Mira" and think we have found just the thing. At the h+h Cologne, we will presenting "Maro". Finally, a faux leather with a wonderful matt weathered finish and in an excellent quality. "Maro" is available in a total of seven colours (five of which are photographed below; expect an additional beige and a grey tone to come). Perfect for handbags and many other sewing ideas! This weathered faux leather will be available for delivery by mid-April.
Handbag material "London"
 We have been looking for a very long time for a fabric like this -- a high-quality, solid handbag material with the appearance of wool that is easy to work with. This heather handbag material is made of 100% polyester and is therefore both hard-wearing and very easy care: Just wipe clean with a damp rag! This décor material offers a bit of stiffness and will not require much, if any additional interfacing. This lovely woven material features a nice hand and lends your handbag and home décor ideas a marvelous luxury appearance. We will premier "London" at the h+h Cologne in six colours (not pictured -- dark anthracite). London is available for delivery by mid-April.
Promotional Images:
To support the promotion and sales of the new designer fabrics in your store or online shop, please feel free to use our promotional images. They will be provided after the trade fair collection by collection. Please keep in mind that the images made available for download are for use in sales and promotion of the fabric, however, all rights to the images remain with the rights holders.
Don´t miss the chance to discover Swafing fabrics on the catwalk at the h+h fashion show!
We are looking forward to seeing you at the Swafing booth at the h+h Cologne!