It's almost that time again! We can barely wait for our first In-House Exhibition this year and the chance to see you in person once again! We would like to invite you to our February In-House Exhibition 2020! As you have come to expect, we will have quite a lot in store for you when you come to Nordhorn. Today, we'll tell you a bit about the workshops we have scheduled, as well as preview this or that fabric delight. Soon will be showing more fabric highlights! In the meantime, we hope to inspire a bit of happy anticipation for the six amazing In-House Exhibition days we have planned! We hope to see you there!
Swafing In-House Exhibition: February 24-29, 2020

Monday to Friday:
7:30 AM – 5:00 PM
Saturday:
9:00 AM – 4:00 PM
Add the Event to your calendar
General Information In-House Exhibition
---
These fabrics may be purchased exclusively to our registered wholesale customers only during the  In-House Exhibition, while supplies last. We're sorry, be we will not be accepting any telephone or email orders for these fabrics and will not place any stock on hold.
Following the Exhibition, any remaining stock will be listed in the Swafing Online Shop and may be purchased there on a first-come, first-served basis.
---
In-House Exhibition February 2020 – Delightful new fabrics and workshops you won't want to miss!
We understand how hard it is to tear yourself away from the sewing machine, even if it is in a quest to find great new fabrics. And so we have three different, very fun workshops featuring great new projects, each held on two days during the In-House Exhibition.
Our Workshops will be held continuously throughout the day–no sign-up required.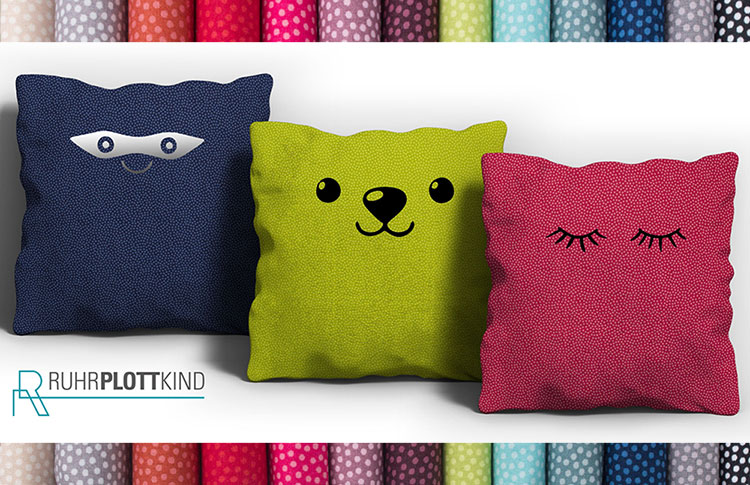 Monday, February 24th and Tuesday, February 25th – home die-cutting machine workshop with Melanie Hagedorn of Ruhrplottkind
Just the perfect finishing touch to your sewing project: Choose from several die cut designs and make iron-on transfers in a variety of foils and vinyls for your one-of-a-kind creations. Stitch up a throw pillow cover or a cosmetics bag from our brand new "Dotty" cotton woven collection and give your project that cherry on top with a die cut design. Simply select a vinyl sheet and a design, have the die cutter do its thing, gently press onto your project and voilá! Something really special.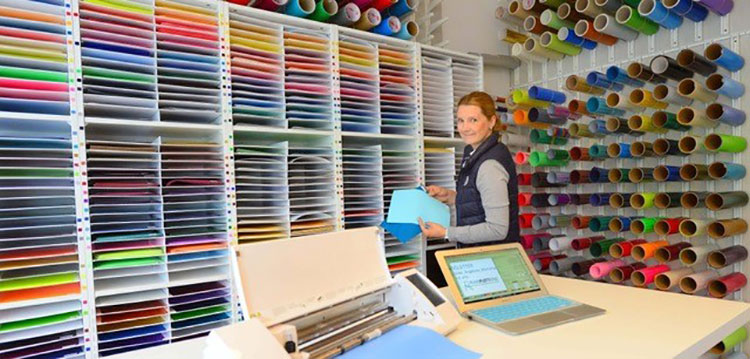 And you are in very good hands with Melanie of Ruhrplottkind, an absolute expert in all things die-cutting. Be sure to check out Melanie's amazing assortment of die-cutting materials, including flexible, stretchable iron-on sheets-great for tech and activewear fabrics–as well as flocked, glitter, cool special effect designs and 3-D Sweet Puff iron-on vinyls and foils. All of these and more are yours to discover in the workshop tent. You may also order die-cutting supplies directly from Ruhrplottkind right then and there for sale in your own store.
"Dotty" cotton woven collection is available at the Inhouse-Exhibition, while supplies last.
---
Wednesday, Februay 26th and Thrusday, February 27th – Sew your own Cherry Picking Beauty Kit!
with Anne Heisig-Lewental of  AnneSvea.de
 The  Cherry Picking Beauty Kit was your absolute top favorite workshop project at our last In-House Exhibition. We received so many requests for new designs and we were more than happy to oblige. Our newest cosmetics bag panel features two new trendy designs created by designer Anke Müller. First, "Be Yourself!" And why not? (Everybody else is taken, right?) Bright, shiny gold calligraphy on fashion-forward leopard print knit jersey, makes being yourself fun, fresh and fabulous. Or choose "Focus on the Good" on a delicate floral design. So good, so very, very good. And just look at what Anke gives us this time! Erstwhile 80s teenies and 2020 hipsters are going to love the return of the scrunchable fabric-covered hair ties. Reusable makeup pads and a pair of socks complete the panel.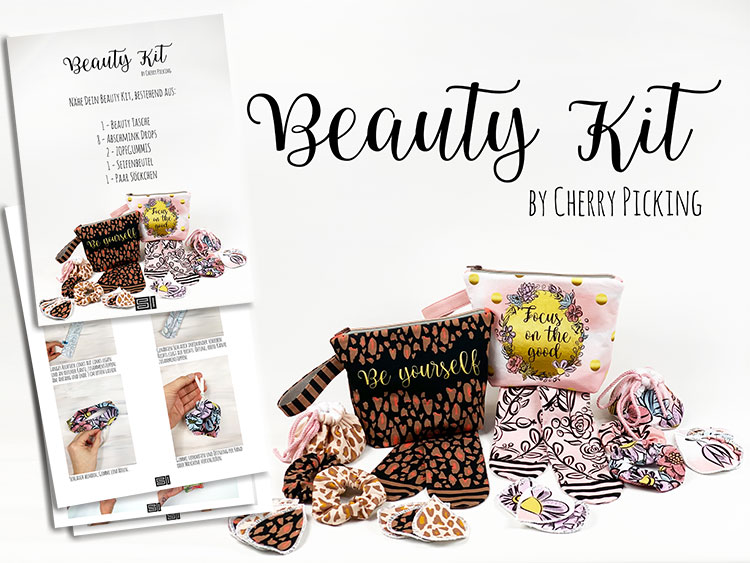 Fabric panels and creative kits are so very now. Cherry Picking's "Beauty Kit" has everything to make your daily beauty routine itself beautiful: reusable makeup removers, a practical bag for your soap or shampoo bar, two fun fabric-covered hair ties, cozy socks and a pretty cosmetics bag to keep it all together. Sew up several Beauty Kits to give as thoughtful gifts. Make a kit in the workshop tent and line with your choice of terry cloth or waffle piqué to display in your store (or keep for yourself!). Cherry Picking's "Beauty Kits" are just perfect for sewing classes, as sewing these items teaches many sewing principles and offer a quick sense of real accomplishment. And of course Anke offers the instructions for download: Hang a poster in your shop or use them in your workshops and sewing classes.
Cherry Picking "Beauty Kit" knit jersey panels can be pre-ordered in the Collections Tent. Delivery slated for May 2020.
---
Friday, February 28th & Saturday, February 29th – Pattarina sewing pattern app with Nora Baum of Pattarina
Pattarina is the new phone app for transferring your sewing pattern layout to your fabric. Never print, piece and tape your sewing patterns again! Your smartphone displays the pattern piece and you simply transfer it to your fabric. That way you get much quicker to actually sewing. Pattarina even makes arranging pattern pieces with respect to large scale designs or border prints easy.
You'll have to see it to believe it: Try Pattarina for yourself at our In-House Exhibition and make a chic new top from one of our newest fabrics.
---
Together we are stronger! With gratitude to our partnering firms
We are so very grateful for the support and participation again this year of Brother, Union Knopf, Vlieseline and Madeira. Our partnering firms will be present during the entirety of In-House Exhibition, ready to show you the newest trends and technologies. Round out your sewing notions assortment with the best in sewing threads, buttons and interfacings. Learn about the newest features in sewing and embroidery machines. And let's not forget our big give-away! Once you register in at check-in, you are automatically entered to win one of many wonderful prizes. Just wait and see! Again, we want to extend a giant thank-you to all our partner firms for their continued support.
We´re looking forward to welcoming many of our Swafing Designers during the fair, including our newest Designer Thorsten Berger!
He will introduce his first Swafing fabrics at our February Swafing In-House Exhibition – More on this later!

New sewing pattern trends at the Swafing In-House Exhibition!
Not only can you stock up on the latest Swafing fabrics, but you can pick up a stack of the latest sewing patterns as well! Don't miss your chance to stock up on the latest designs from lillesol & pelle / Julia Korff and ki-ba-doo / Claudia Holtgrefe. And you are sure to find inspiration in the darling design examples displayed using Swafing fabrics.
Both designers will have a selection of their latest and most popular sewing patterns available for purchase at the In-House Exhibition.
---
In-House Exhibition February 2020 – Can't wait to see you there!
We look forward to your visit in Nordhorn!
General Information In-House Exhibition
---