"The Sewing Bee" comes to Germany! The British popular television programme is coming to German viewers "'Geschickt eingefädelt' — Wer näht am besten?" (roughly "Cleverly done — who sews the best?") on  german  TV Channel VOX. Each week for six weeks, beginning November 3 at 7:15 pm (GMT), contestants are asked to show us their best sewing and are judged on skill, design and technique by a panel of expert judges.
"Geschickt eingefädelt" will offer viewers some real insight into sewing techniques and pitfalls, as well as some friendly competition. Host and star designer Guido Maria Kretschmer will be joined by "Shopping Queen" Inge Szoltysik-Sparrer, as well as our own Anke Müller!
We'll be keeping up with "Geschickt Eingefädelt" here on our blog. Here is a bit of what you can expect each Tuesday on VOX beginning November 3rd!
"Geschickt Eingefädelt" — the Contestants
Three men and five women ranging in age from 24 to 49 have taken the challenge and ready to compete for the title of Germany's best seamster/ seamstress.
Who will be in the running? We have a little bit of information on the eight creative contestants, who you will be getting to know each week. We, too, are on pins and needles and can't wait to see who comes out ahead!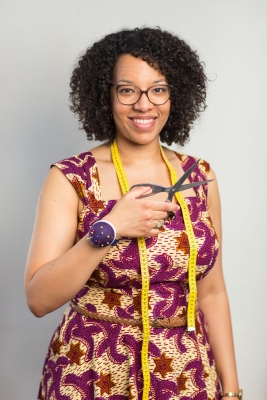 27-year-old Ella Steinmann is married, has a two-year-old daughter and lives in the Rhine-Ruhr. She is currently studying philosophy and religious studies, dances and sings musical theater and does volunteer work. Happy-go-lucky Ella taught herself to sew starting in 2010, after receiving a sewing machine as a birthday present. She now makes her own patterns and sews colourful, creative clothing and costumes. When she sews, Ella loses all sense of time and gets lost in the process. You can learn more about Ella on her blog Ellamara.de.
Céline Voigt is 27 years old and comes to us from Switzerland. Céline is trained in business commerce and works in digital marketing. Currently working toward her degree in business administration, Céline is in a committed relationship and lives in Zurich. Céline taught herself to sew only two years ago, but already sews like a pro. This sewing natural sews primarily from sewing patterns and like to make dresses the most, as well as circle skirts, blouses, winter coats and jackets. She specializes in sewing tricky fabrics, such as silk, lace and heavy woolens. She sees herself as a very precise and skilled sewist.
24-year-old Florian Lange comes to us from Brandenburg an der Havel, where he quit his vocational training in restaurant management to start a dance troupe. Florian has quite the stage presence and often appears in German pop song revues as Mireille Mathieu or Andrea Berg. Out-going Florian is currently single and has been sewing almost every day for the past four years. He likes making vintage ladies' dresses and suits  from the 1950s and 60s the most. Florian is ready to show the world that he is much more than just some small-town boy. You can learn more about Florian online at HerrSchneider what means Mr. Taylor.
Frank Brügers was born in 1974 in Nambia and is a manager in a consulting firm. He lived many years in Nambia, where his mother owned a fabric shop. For the past twelve years he has been living in Germany and has worked in several fields. He managed a hotel for three years, learned to cook and spent two years as a beekeeper. This charming contestant is currently single and is up for most anything: He loves to dance, play paintball and ride vintage motorcycles. This 41-year-old has been sewing for more than 30 years and enjoys making historical clothing from the 15th to 19th centuries, especially Tudor-ear clothing with heavy embroidery.
Ines Maier was born in 1965 in the town of Seehausen in Saxony-Anhalt. She spent many years in Berlin, but now resides in Nuremberg. 49-year-old Ines is a foreign language secretary, as well as a qualified electrician. She is a mother to three children and grandmother to two. This superwoman is a copetitive athlete, model and loves to sew. Ines began to sew already at the tender age of 14 to release some of her creative energy. Because Ines is rather tall, she has been tailoring her own trousers for many years now. She has mastered dressmaking such, that she sewed her own wedding dress. She takes much of her inspiration from her new hometown and enjoys making dirndls the most. You can see more of Ines and her dirndls at  PippilottaDirndl.
Katja Schirmer was born in 1984 in Berlin. She has a degree in biology and lives in Baunatal. 31-year-old Katja likes to spend time with her dog, play video games and making her own soap. Almost daily, Katja will take to needle and thread and release her creative energy through sewing. She specializes in making hoop skirt crinolines and corsets, as well as rococo, steampunk, Gothic Lolita and cosplay creations. Her own personal style is inspired by Japanese street fashion. Go see for yourself at Katja's Fanpage  CandyZombieFashion!
47-year-old Meike Rensch-Bergner from Hamburg is trained in business commerce and is the author of the best-selling book "Das Uschi-Prinzip" ("The Uschi Principle"). Meike works as a life coach, as well as in a fabric shop. Her favourite things to do are to dream up and sew up new dresses. In addition, she writes a sewing blog and organizes get-togethers with other sewing enthusiasts. Her big dream is to write a book about of the joy of sewing. She sews everything–with the exception of socks and bras. She specialized in vintage dresses and in clothing for "women in an unpopular dimensions". Meike is rather outspoken in the sewing world and as  Frau Crafteln fights the good fight against the "jeans-ing of the world" and outdoor gear in the pedestrian zone!
30-year-old Tobias Milse, born in Bremen, is self-taught bag-maker and fashion manager in Berlin. Tobias lived for a while in Paris and fulfilled the dream of having his own handbag label. During an apprenticeship, Tobias discovered his passion for sewing and focused his talent to learning bag-making on his own. He makes his bags from start to finish by hand and enjoys working with luxury materials. In his free time, Tobias enjoys working out, classic movies and cooking. He is constantly evolving the décor of his apartment and has even taken to reupholstering a chair. Tobias' beautiful handbags may be seen at  TMPARIS.
Who is your favorite?
---
Geschickt eingefädelt – Wer näht am besten?
beginning November, 3rd 2015
tuesday evening 19:15 Uhr (GMT) on german tv channel VOX.
---
 All images: © VOX/Andreas Friese