We would like to invite you to our August In-House Exhibition! August is just around the corner! We are so looking forward to seeing you. 
Swafing In-House Exhibition August 26-31, 2019
Please note the change in our opening times: The In-House Exhibition starts Monday and ends on Saturday.
Monday to Friday 7:30 AM – 5:00 PM
Saturday 9:00 AM to 4:00 PM
Add the event to your calendar
General Information Swafing In-House Exhibition
In time for the In-House Exhibition, we will be showing many more highlight fabrics!
We are so looking forward to spending six amazing days with you in Nordhorn.
---
These fabrics may be purchased exclusively to our registered wholesale customers only during the  In-House Exhibition, while supplies last. We're sorry, be we will not be accepting any telephone or email orders for these fabrics and will not place any stock on hold.
Following the Exhibition, any remaining stock will be listed in the Swafing Online Shop and may be purchased there on a first-come, first-served basis.
---
Beautiful fabrics and a really exciting Workshop program!
New! On each day of the In-House exhibition, you may take part in some really neat Workshops. Three different Workshops will be held on two days each during the In-House Exhibition. Our Workshops will be held continuously throughout the day–no sign-up required.
Monday and Tuesday, August 26th and 27th – Pattarina Sewing Pattern App
with Nora Baum, Pattarina
Pattarina is a brand new app designed to transfer your sewing pattern directly to your fabric! No more printing out and taping together! The pattern pieces appear on your smart device and you simply transfer them to you fabric. You'll get to sewing so much quicker.
Using Pattarina, it is also very easy to position your sewing pattern pieces on large-scale prints or border prints. Try it out for yourself at the In-House Exhibition: Stitch up either a pretty new skirt or top from the brand new book "Nähen mit Pattarina" (German language only, release date August 2019, TOPP / Frechverlag) using Cherry Picking's latest design "Confetti Storm".
Cherry Picking's "Confetti Storm" in satin will be available for pre-order in the Collections tent. Delivery slated for mid-November.
---
Wednesday and Thursday, August 28th and 29th–Sew lovely new designs from our brand new In-House Exhibition fabrics.
with Hanne Mummert, burda style
You will be able to stitch up design examples to promote the sale of your new Swafing fabrics right away in our Workshop tent! So right after you've made your purchase, you can head to the Workshop tent and make a pretty new design example for your shop window or social media!
We have picked out just the right sewing patterns from the newest Burda Fall/Winter Collection: Choose from an easy-going top or a cool poncho!
---
Friday and Saturday, August 30th and 31st–Cherry Picking's "Beauty Kit"
with Anne Heisig-Lewental / AnneSvea.de
Fabric panels and creative kits are so very right now. Cherry Picking's "Beauty Kit" contains everything to add beauty to your daily beauty routine: A reversible headband, reuseable makeup removers, a practical bag for your soap, cozy socks and a pretty cosmetics bag to keep it all together. Beauty Kit is available in a modern terrazzo look or in a fun watercolour design.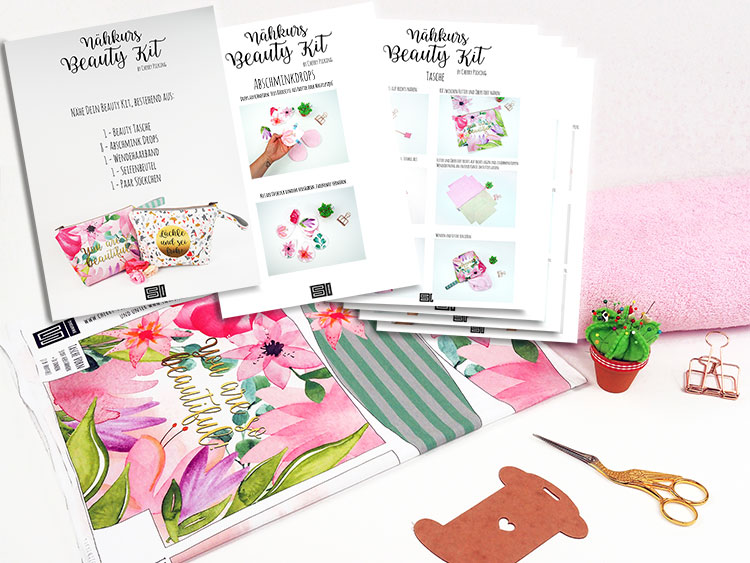 Meet us in the Workshop tent and stitch up your own handy Beauty Kit using this fun fabric panel and a bit of terry cloth or waffle pique. Display in your shop, use for a sewing class, give to a friend or keep for yourself! Cherry Picking's Anke Müller has the complete instructions available for you, even as a poster to hang up at your own workshop or sewing class!
"Beauty Kit" knit jersey fabric panel will be available for pre-order in the Collections tent. Delivery slated for mid-November.
---
Stronger Together! Our partner firms
We are so pleased to be able to welcome our partner firms Brother, Union Kopf, Vlieseline, Madeira and Frech Publishing, who will be present during the entire duration of the event. Discover the newest trends and technologies in threads, interfacing, notions, sewing and embroidery machines and so much more! And let's not forget our big give-away! Once you register in the Check-In booth, you are automatically entered to win one of many wonderful prizes. Just wait and see! We want to send out a great big thank you to all of our partner firms for their support.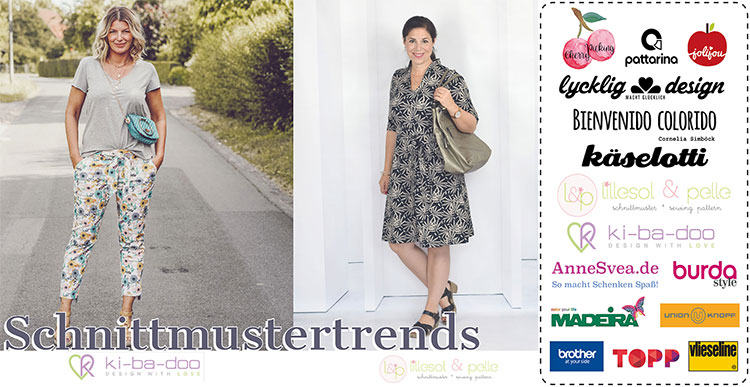 New sewing pattern trends at the Swafing In-House Exhibition!
Not only will we be showing you gorgeous new fabrics, but the latest trends in sewing patterns as well! During the In-House Exhibition, you will have the opportunity to order the latest sewing pattern designs direct from lillesol & pelle / Julia Korff and ki-ba-doo / Claudia Holtgrefe. Be sure to check out their design examples sewn from Swafing fabrics!
New! Both lillesol & pelle and ki-ba-doo will have a selection of their most popular sewing patterns for sale. Take home a big stack right from the In-House Exhibition!
---
And don't forget we'll have many, many special offers, the newest quilting cottons and of course a preview of our giant Spring/Summer 2020 collection!
We are so looking forward to spending six amazing days with you in Nordhorn.
General Information Swafing In-House Exhibition
---