Cologne, here we come! You are cordially invited to visit our booth at the 2018 h&h Cologne 2018 International Trade Fair for Creative Handicraft & Hobby Supplies, March 23-25. Come find us at Booth C031/D30 right in the center of it all in Hall 2.2! Be sure to check out our many fair highlights, available exclusively for pre-order at the h+h Cologne! 
In addition to our sizeable "Made in Italy" apparel fabric collection, we are proud to present designer fabrics exclusive to Swafing from Cherry Picking, Jolijou, Lila-Lotta, bienvenido colorido and byGraziela. Also keep an eye out for licensed character Disney and Steinbeck fabrics, a variety of shirting fabrics, Swafing Creative Paper in new colours, our huge Fall/Winter 2018/19 collection, as well as our extensive Basic assortment.
---
Some of the highlights presented in this newsletter may be ordered only during the fair in Cologne! We will not be accepting any orders for these fabrics by telephone or in our onlineshop. Should we have any leftovers from the h&h Cologne 2018, those may find their way into the Swafing Online Shop or may be made available some other way. However, we will not know how nor how much until several days after the trade show has ended. We will let you know as soon as we know.
---
Made in Italy – Luxury wool and fashion fabrics from Italy
La dolce vita apparel fabrics from sunny Italy: Timeless and trendy at once. More and more sewists are graduating from sewing children's clothing and simple knit jersey casual wear to wanting to make more substantial pieces. Customers are seeking high-quality and exclusive apparel fabrics to create one-of-a-kind fashion statements for men and women. Swafing will be offering our marvelous "Made in Italy Collection" only at the h+h Cologne.
Look for a variety of wool knits, including a very trendy destroyed-look wool jersey, flannels, jacquard knits, jacquard wovens, herringbone tweeds, plain wovens, and amazing quilted wool fabrics.
Most of Swafing's Made in Italy Collection will be sent from our warehouse by mid-August. However, as a little appetizer, we will be able to deliver two items already this coming April.
"Bene & Lenn" – Fine gauge knit jersey from Italy! This lightweight cotton/Elastane (Lycra) knit jersey in seven heathered "Lenn" hues, perfectly colour-matched to yarn-dyed stripe "Bene", is just the thing for casual dresses, sweaters, tops and so much more!
Offered for pre-order exclusively at the h&h Cologne, Delivery slated for mid-April.
"Ruth"    For cardigans and sweater coats with that "wow" factor, choose chunky knit "Ruth". Eye-catching bulky alpaca-blend yarn loops are worked onto a knit elastic backing. Available in the colours oatmeal, grey, purple, putty, and teal blue.
"Wilma" is a high-quality classic flannel with a high wool content. Trendy, approx. 8 cm wide stripes in different grey tones are railroaded down the length of the material in repeats approx. every 115 cm. Perfect for cozy flannel dresses, cardigans, car coats and so much more!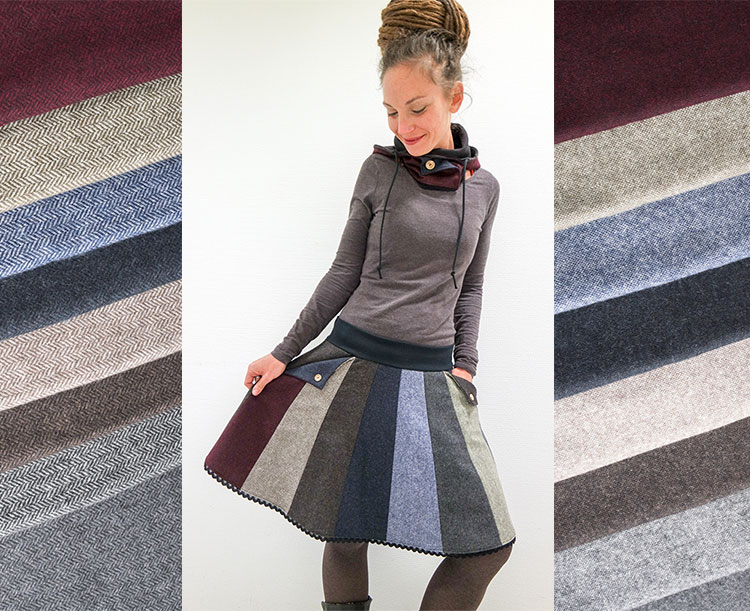 "Massimo" is a beautiful classic 70% wool-blend tweed. "Massimo" features a marvelous hand and is an excellent choice for blazers, coats, dresses, suits and suit separates. Choose from either herringbone or salt & pepper, each in eight timeless colors.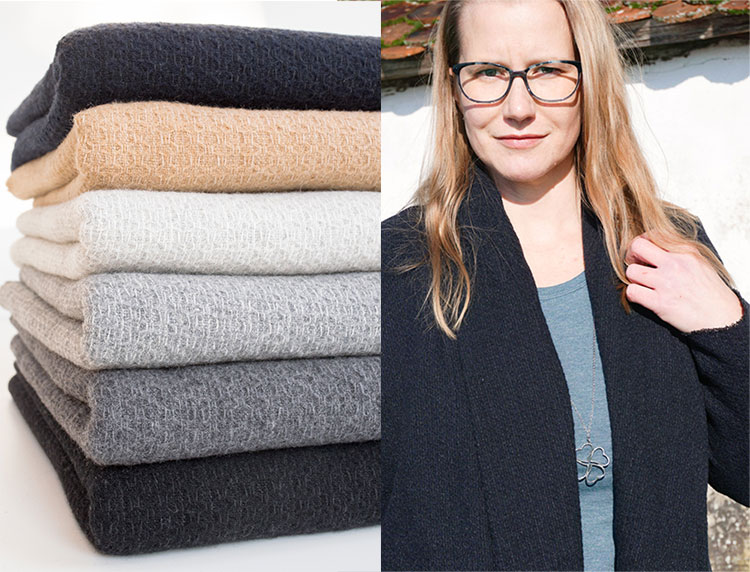 "Renata" is a waffle knit in six classic colours. This lightweight wool-blend knit captivates through texture and structure. Stitch up cardigans, sweater jackets or sweater coats for men and women from this delightful wool, cotton and polyester blend material.
"Jule" is a lightweight knit wool coming to you in eight very attractive colours. With a fiber content of 80% wool, this material is a delight for men and women's apparel alike. "Jule" is a marvelous fabric to make baselayer tops, knit dresses, cardigans or ponchos.
If you're looking for something a bit different, something equal parts luxurious and casual, give destroyed-look "Jula" a try.
Tell Grandma she can put her darning needle away: These holes are there by design! "Jula" comes to you in putty, denim blue and dark grey, and is colour-match perfectly with "Jule".
Marvelous quilted outerwear fabrics: "Augustin" is a triple-layer quilted wool-blend material. The fabric right side features a nice denim look in grey or dark blue, and an appealing stitched diamond pattern. The insulating middle layer eliminates the need for additional loft lining. Vests and jackets sewn from "Augustin" will keep you warm and stylish!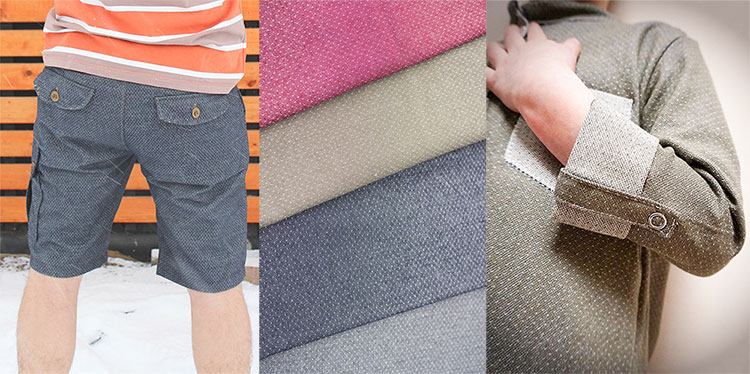 "Timo" is a bottomweight fabric, which also works well for heavier-weight shirts or lightweight jackets, or even handbags and floor pillows! This somewhat heavier Chambray with a dot jacquard weave comes to you in the colours dark grey, Burgundy, dark blue and olive green.
"Lisa" is a jacquard jersey from Italy featuring an attractive and versatile diamond pattern. This cotton/Elastane (Lycra) blend jacquard has a lovely hand and is a delight against the skin. Depending on the sewing pattern you choose, "Lisa" can be classic, dressy or utterly retro! Jacquard knit shirts, jackets or dresses…what will you stitch up from "Lisa"? Lisa is available in black, dark blue and Bordeaux.

---
byGraziela "Blätter" Softshell!
byGraziela's "Blätter" ("leaves") are back! Swafing will be offering byGraziela's ever-popular leaf print exclusively at the h+h Cologne fair, and this time on softshell!
Sew favourite softshell outerwear pieces in the popular colourways light grey with pink, dark grey with mint green accents, and bright honeysuckle with pops of pink. Pull out your favourite all-weather sewing patterns to make jackets, coats and water resistant adventure trousers from this NANO softshell with a cozy fleece reverse.
Be ready for whatever spring throws at you: A pretty byGraziela softshell windbreaker and rain pants will have you jumping puddles and laughing at blustery weather. Our two-sided softshell features NANO technology, which repels water and wind while keeping you toasty warm. The fleece reserve feels great against the skin, as well as eliminating the need to include a separate lining.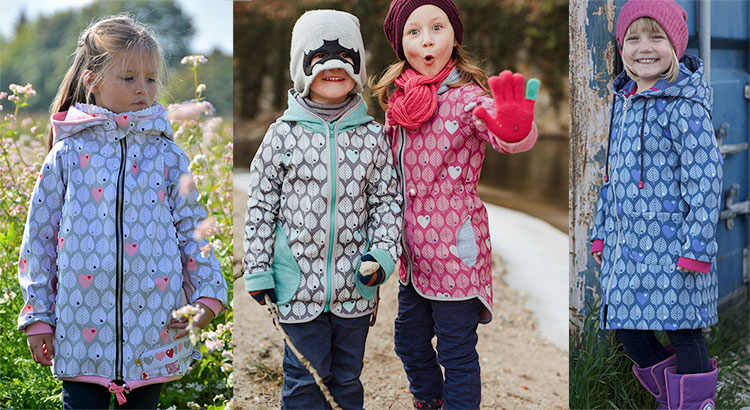 Our byGraziela softshell fabrics may only be ordered by registered Swafing wholesale customers at the h+h Cologne trade fair. We will not be accepting any orders by phone for our h+h Cologne highlight fabrics. Come visit us at our h+h Cologne booth to preview and order our exclusive new designer fabrics slated for delivery in September.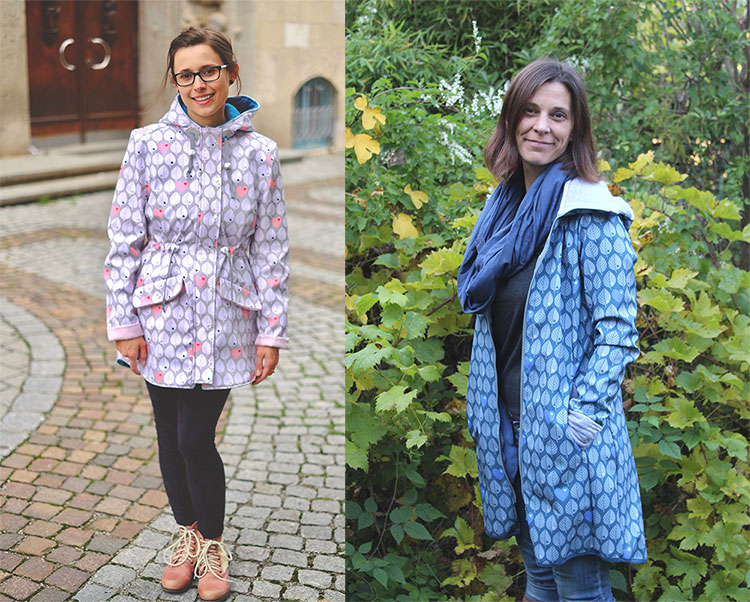 ---
Cherry Picking – be happy every single Moment
Be present and mindful of the beautiful every moment for a happy existence. Sew yourself happy with Cherry Picking's newest fabrics.
The light and airy collection will entice you to create. These clever, but simple designs feature light strokes without and defined shapes. They work well mixed and matched with other fabrics, but also stand alone. Add a hand-painted bangle, golden sandals or a big statement necklace and your look is perfect! The collection is based on classic black and white, bold lipstick kisses and smokey pastels. Choose from many designs on different fabric varieties!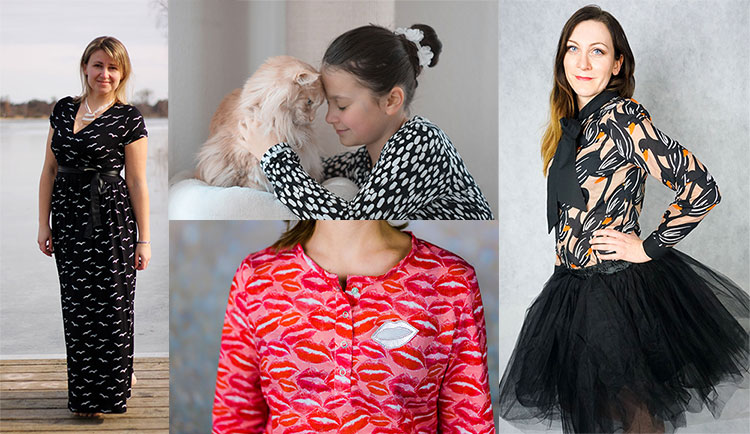 "…be happy every single moment…" : Trending kissing lips ("Kiss Petite" on Modal sweatshirt jersey and "Kiss Every Single Moment" on voile), large-scale swans ("Swans" on voile), painted dots and brush strokes ("Just Black & White" on Modal sweatshirt jersey), swallows ("Fly into the Sky" on viscose knit jersey), and happy "Cute Little Ghosts" (cotton knit jersey)– available exclusively at the h&h Cologne while supplies last and at a Swafing retail partner near you in April.
Delivery slated for  early April:
Swans – Voile
Kiss every single Moment, Voile and Kiss petite Modal-Sweatshirt jersey
Fly into the Sky – Viscose knit jersey
Delivery slated for mid-April
Just black & white – Modal Sweatshirt jersey
Cute little Ghosts – Cotton knit jersey with elasthane
Available exclusively at the h&h Cologne while supplies last, delivery slated for April.
---
Fly & Flow von Jolijou
At one with nature and in harmony with the world. Behold the beating of butterfly wings, the splash of water in a pond, and the opening petals of water lilies.
Andrea Müller presents a new, colourful knit jersey collection for summer 2018. Catch a glimpse of a passing butterfly, dip your fingertips in cool pond waters and feast your eyes on blooming water lilies. Find your sewing flow with "Chrysalis Warrior", "Lily's Pond", "Lotus Love" and "Boomerang Boom" from Jolijou.
These colourful designs come to you on Swafing's highest quality cotton blend knit jersey: 95% cotton/5% Elastane/Lycra, "Confidence in Textiles/Oeko-Tex Standard 100 certified. Available exclusively for pre-order at the h+h Cologne 2018, delivery slated for mid-June.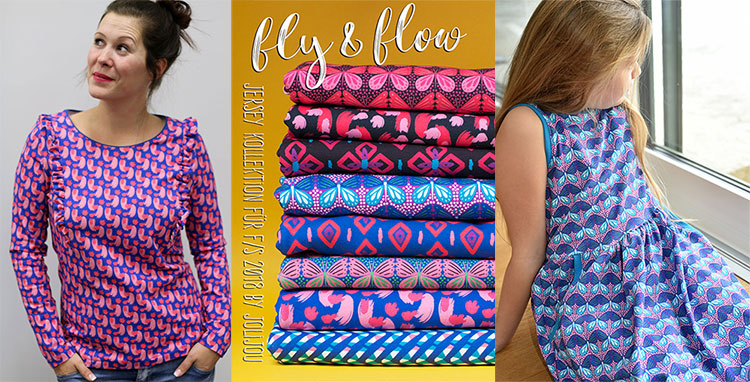 Overview Fly & Flow Collection:




Pillow Party von Jolijou
"Pillow Party" from Jolijou
This decorator fabric is something really special: With just a single meter of fabric you can stitch up beautiful Jolijou "Pillow Party" throw pillows in no time at all. And no need for a sewing pattern! Sew round pillows, square pillows, hexagons or neck rolls: Go to where your imagination takes you! Each repeat includes three mandalas to adorn one side of your pillow, whether round, square or hexagon.
Mix several mandalas to create reversible pillows or choose a perfectly colour-match Swafing Basic to contrast the reverse.
Use the railroaded stripes to create borders or flanges. Of course, this fabric also works great for making yoga pillows, handbags and shopping bags. Add ball fringe, brush fringe, tassels, ribbons or welting to add an extra-special touch.
Available exclusively for pre-order at the h+h Cologne 2018, delivery slated for mid-June.
---
"Melly" & "Mattes" from Lila-Lotta
For some time now, Sandra Prüßmeier has wanted to design a collection for our littlest ones. To mark the occasion of her niece's birth, Sandra has dedicated her newest collection "Melly & Mattes" to her sister Melly.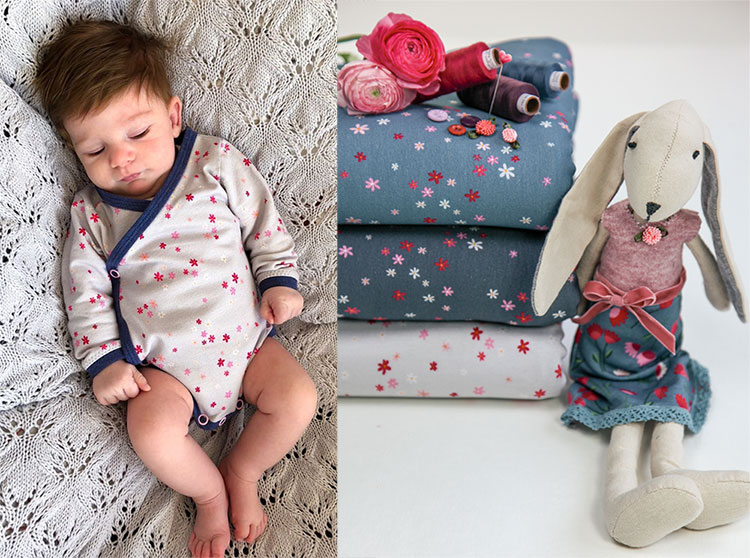 But don't think for a minute that the newest Lila-Lotta fabrics are just for babies: Depending on which elements you choose to highlight, these French terry fabrics work great for big kids, teens and even adults.
Bunny Melly and Mouse Mattes mix and match perfectly with their combination fabrics: diamond shapes, pixel designs, blossoms and tiny flowers to round off the main design elements.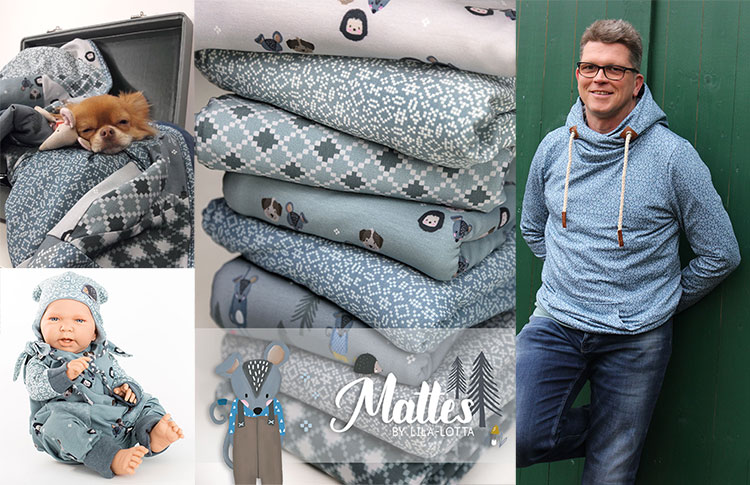 These colourful designs come to you on cotton blend French terry: 95% cotton/5% Elastane/Lycra, "Confidence in Textiles/Oeko-Tex Standard 100 certified.
Available exclusively for pre-order at the h+h Cologne 2018, delivery slated for mid-June.
---
"Chinese Birds" and "Chinese Roses" from bienvenido colorido
Marvelous materials with global appeal – Bienvenido colorido "Chinese Birds" and "Chinese Roses" takes a creative excursion into the Middle Kingdom. Floral knit jerseys are highly sought-after and these two new collections are so much more that that.
Ever since her geography and history studies at uni, designer Cornelia Simböck has been fascinated by maps. She also enjoys mixing elements from various and distinct sources to make truly fascinating fabric designs. In amongst the abstract roses and bird silhouettes, one starts to recognize other details like historical Chinese maps and cherry blossoms.
The four knit jerseys in mint green/teal blue and dark grey colourways come to you on our highest quality Swafing 95% cotton/5% Elastane (Lycra) blend knit jersey. "Confidence in Textiles"/Oeko-Tex Standard 100 certified.
Available exclusively for pre-order at the h+h Cologne 2018, delivery slated for mid-June.
---
STEINBECK fabric collection "Woody"
The new STEINBECK fabric collection "Woody" brings a colourful forest to life. Squirrels, wild boar, owls, foxes and a family of deer gather amid bright polka dots, stripes and playfully illustrated trees. STEINBECK's woodland creatures find many an adventure here and so will you!
Choose from six different fabric designs in five colourways: Brown/beige, blue/turquoise, raspberry/pink, green/mint green, and orange/apricot. STEINBECKS's "Woody" knit jerseys are fanciful, playful and perfect for all ages.

95% cotton/5% Elastane (Lycra) blend knit jersey, "Confidence in Textiles"/Oeko-Tex Standard 100. Available exclusively at the 2018 h+h Cologne. Slated for delivery in mid-June.
Important information:
STEINBECK designer fabrics are no longer subject to the Terms of Use for Swafing licensed character fabrics. Commercial use of the fabrics is no longer entirely excluded.
Please note, however, that as a commercial user of these fabrics, depending on the finished item, every lot of fabric used may be subject to mandatory testing
---
Swafing Creative Paper  ("Kreativpapier") in many pleasing colors!
In time for the h+h Cologne, we will be presenting 6 new Swafing Creative Papers: Check out a saturated burgundy in Kreativpapier 1 and five brand new Kreativpapier metallic colourways!
New in the collection are black, dusty rose, purple and–perfect for holiday handicrafts–classic red and green. Delivery slated for June 2018.
You may also crumple and flatten out our creative paper while wet to create an interesting texture! More information: Swafing Kreativpapier on Swafing Blog.
---
Björn: Winter prints in Pastels
Björn – These winter prints are something a bit different than your classic holiday fabrics. This lovely collection in apricot, mint green and teal colourways includes 15 cotton prints in total and features snowflakes, puffy clouds, tiny reindeer, polka dots and stars. The fabrics mix and match like a dream and many of the prints can be used year-round. 100% cotton, "Confidence in Textiles"/Oeko-Tex Standard 100 certified. Delivery is slated for August.
---
Fashion Fabrics: Cindy, Kate & Manchester
"Manchester" Jacquard Jersey is back – with two new colours!
Be YOU-nique! With jacquard knit jersey "Manchester" it is easy to make one-of-a-kind wardrobe pieces. Play around with the direction, colours and even the fabric side. Striped jacquard Jersey comes to you in dusty rose, denim blue, dark blue and dark grey.
New: Putty and burgundy
Cindy – Border embroidered faux leather in black with grey or blue embroidery. Just the thing for a cool faux leather skirt or a happening faux leather jacket.  Delivery slated for the end of April.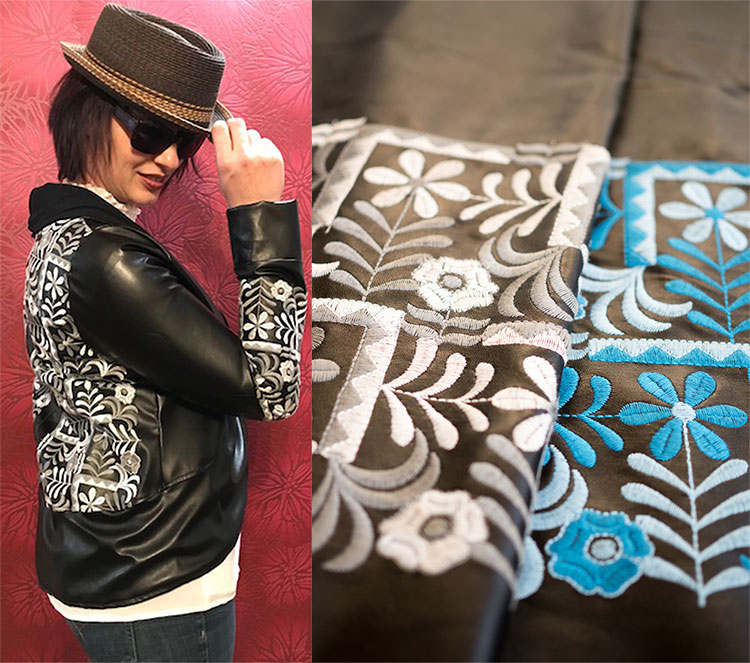 Viscose satin print "Kate"
Viscose satin print "Kate" is a delightful blouse material in five attractive designs. Viscose print have a look of pure luxury and are so light and breezy against the skin. Viscose fabrics work well for garments such as blouses, tunic tops, and dressy dresses.
"Kate" is 100% viscose and is "Confidence in Textiles/Oeko-Tex Standard 100. Choose from trendy insects, rabbits and owls, or timeless fall designs, like leaves and squirrels. Delivery slated for mid-September.
---
Swafing Fall/Winter-Collection 2018/19  – Available for preorder at the h&h cologne fair!
---
Don't miss it: Swafing on the Runway
If you're going to the h+h Cologne trade fair, be sure to catch the daily Fashion Show sponsored by the Initiative Handarbeit ("handicraft initiative")! Inspiration for every occasion and all tastes: Fashion designer Anke Müller will present five inspiring looks sewn from Swafing fabrics. Check it out!
---
OTTOBRE design – Meet & Greet !
Come to our booth on Saturday at 12 PM and meet Tuula Hepola, editor-in-chief and creative director of OTTOBRE design®. Take this chance to talk our favourite topic, sewing patterns and fashion, with a leader in the industry! Learn how OTTOBRE design® magazine can be used as a useful point-of-sale promotional tool. OTTOBRE design® regularly uses Swafing fabrics for their design examples and very often customers will buy the magazine and the fabrics featured in it all at once to achieve the same look.
OTTOBRE design®, the sewing pattern magazine for everybody who loves to sew, and Swafing GmbH, your trusted partner for fashionable, high quality sewing fabrics.
---
h+h fabrics in Swafing Designer


On Friday, many of the newest Swafing h+h fabrics will be ready to play with in Swafing Designer, our brand new digital visualization app.
Please note, however, that fabrics which have delivery slated for later in the year may only be viewed by registered wholesale customer through secured access.


Sign up today for your exclusive access to Swafing Designer and experience for yourself 3D mapping of the newest pre-order fabrics.
Activation will occur within one business day. We will send an email notification with instructions as soon as access is granted.

Register now for access!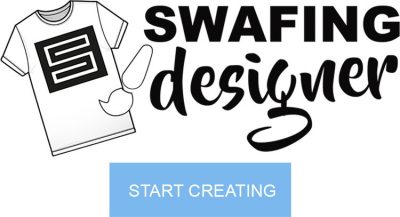 Cologne Fair fabrics in the Swafing Designer


---
We are looking forward to seeing you at the Swafing booth at the h+h Cologne!
Thanks for the great Design examples to our talented test sewists!