How did you like the Designer Fabrics for the Swafing In-House Exhibition, our "Designer Edition" Book Fabrics and the Designer Panel Fabrics?  To help write up your shopping list and help to whet your customers' creative appetite, we're here today to show you a few more exciting highlights.
These fabrics may be purchased exclusively to our registered wholesale customers only during the August In-House Exhibition, while supplies last. We're sorry, be we will not be accepting any telephone or email orders for these fabrics and will not place any stock on hold. Following the Exhibition, any remaining stock will be listed in the Swafing Online Shop and may be purchased there on a first-come, first-served basis.
---
STANDARD 100 by OEKO-TEX® certified:  Unless otherwise indicated, the product has been certified according to Product Class I
---
Our August 2018 In-House Exhibition Highlights at a glance:
Sweatshirt jerseys:
Fall begins to inch its way toward us and a quick check of your last year's sweaters, sweatshirts and leggings reveals that they are either too small, too large…or just to your liking anymore. Fear not, we are stocking many new fabrics for a fresh, new Fall wardrobe!
French terry "Patty" with winter trees
French terry is a sweatshirt knit which does not have a brushed reverse. French terry is the "Goldilocks" of sweatshirt knits: not too thick and not too thin. A great fabric to keep in your stash for all kinds of year-round sewing The addition of Elastane/Lycra stretch to this cotton allows our French terry "Patty" to move and recover with the wearer. In time for our In-House Exhibition, we have a lovely new design featuring stylised winter trees in six background colourways.
STANDARD 100 by OEKO-TEX® certified.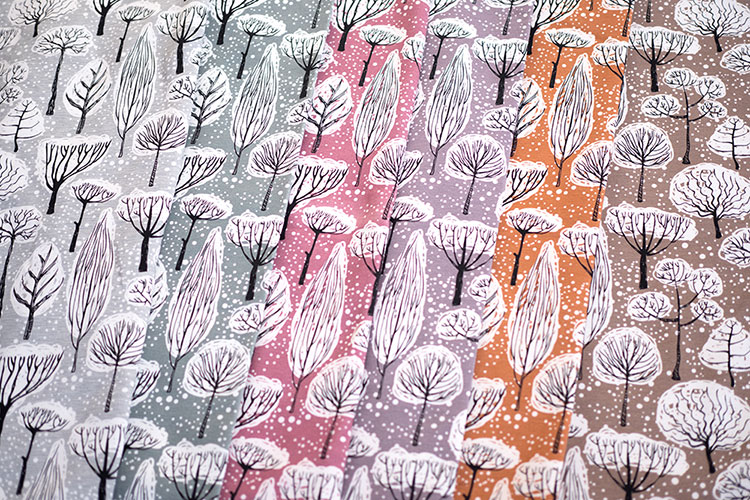 "Grace" brushed sweatshirt jersey
This cool 80s retro sweatshirt jersey with big and small scale painted polka dots, stars or stripes in black and cream white mix and match with each other! Design example: Sewing pattern "Daxi" from ki-ba-doo, sewn by Anke Müller/Cherry Picking.
STANDARD 100 by OEKO-TEX® certified.
Raindrops and stars on sweatshirt jersey "Mira"
After the rain, the sun shall come! Sweatshirt jersey "Mira" makes even rainy days fun. This dark anthracite grey sweatshirt material is doused with graphic raindrops in a modern colour pallet. Pair this with the star sweatshirt and stitch up the perfect pieces for curling up with a hot tea and a good book. 95% cotton / 5% Elastane/Lycra.
STANDARD 100 by OEKO-TEX® certified.
Sweatshirt jerseys for Jurassic juniors!
Fredo – Basic heather grey sweatshirt knits can be used anywhere, anytime. This time we're bringing you our popular printed heathered sweatshirt knit in your choice of two different dinosaur designs. Stitch up some cuddly fall pieces for the little dinosaur fans in your life!

"Mick" brushed sweatshirt jersey
A cozy sweatshirt jersey in three designs. Do the little ones in your life like dinosaurs or race cars? We have just the sweatshirt fabric for you!
And this doodle style design in three colorways invite the wearer to find new forest friends hiding amidst the mushrooms and trees. This 94% cotton / 6% Elastane/Lycra blend moves with the wearer and recovers like a dream.
STANDARD 100 by OEKO-TEX® certified.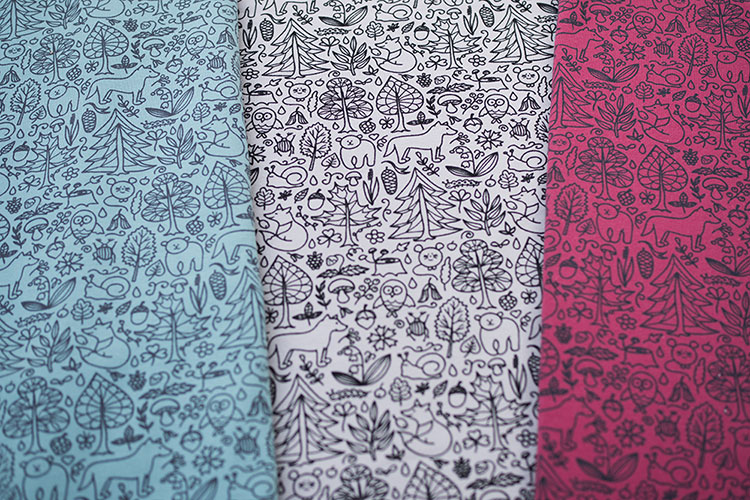 "Rika" brushed sweatshirt jersey in denim blue and mint green
Our romantic new sweatshirt jersey "Rika" speaks the language of roses. This sweet design features pink roses and tiny hearts on a background of dainty dots. Choose from denim blue or mint green. STANDARD 100 by OEKO-TEX® certified.
"Signe Melange" quilted sweatshirt jersey
Just in time for the Fall In-House Exhibition, we're bringing you a new heathered quilted sweatshirt jersey! Swafing's double-layer insulated, quilted knit sweatshirt jersey "Signe" is comprised of two layers of soft cotton knit with a thin insulating layer of poly fiber interfacing in between. "Signe" is completely reversible–no need to add an extra lining! Jackets stitched up from this reversible quilted knit are so quick to make and so very versatile. Your new "Signe" pieces will soon become your go-to wardrobe favourites. The small stitched diamonds measure approximately 1.7 cm x 3 cm, a scale that works for everybody! STANDARD 100 by OEKO-TEX® certified.
---
New Sweater Knits and Sweatshirt Knits for Fall and Winter!
Sweater knits are very, very popular and really round out our sweatshirt jersey assortment. Here just in time for our August In-House Exhibition. This heathered cotton sweater knit is just the thing for transitional summer-to-fall pieces.
French terry "Marc" features an interesting knit appearance; "Marc" is our heavier, winter-weather version of "Marvin". Coming to you in seven lovely cream-white blended colourways.  STANDARD 100 by OEKO-TEX® certified.
Sweater knit "Malte" in tweed look
"Malte", weighing in at 370 g/m² is somewhat heavier than "Marc" and features a bit of floating thread in the knit. This knitted structure lends "Malte" a tweed appearance. This dreamy 90% cotton / 10% polyester blend sweater knit is perfect for sweater coats, jackets, hoodies and cardigans, as well as comfy winter lounge pants. Coming to you in your choice of six heathered colourways.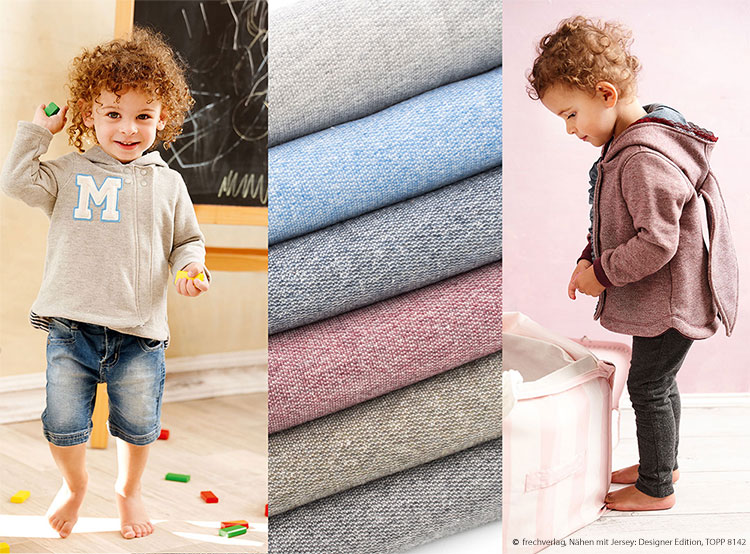 Printed sweater knit "Melvin"
"Melvin" is the printed version of lightweight sweater knit "Marvin". This popular 100% cotton French terry features pretty roses in stencil look. "Marvin" feels great against the skin and is perfect for tops, jackets and hoodies. STANDARD 100 by OEKO-TEX® certified.
Design Example: Pullover sweater sewn from "Melvin" and "Heike" 937; Sewing Pattern "Amy" from Pattydoo.
"Bene" & "Lenn" celebrate a comeback and are joined by viscose knit "Kai"
"Bene" and "Lenn" fine gauge knit – Made in Italy! This lightweight cotton/Elastane (Lycra) knit jersey returns to the Swafing In-House Exhibition in three new colourways. Stock up on "Bene" in heathered burgundy, dark blue and bright berry, and don't forget the matching yarn-dyed stripe "Lenn" featuring complimentary grey stripes. Ideal for casual dresses, sweaters, tops and so much more!
 Viscose knit "Kai" – an absolute In-House Exhibition hit! There's no end in sight for the popularity of "Kai". This nice, soft and pleasant to wear knit and comes to you this season in 11 top-trending colours. Just great for making sweatshirts, vests, cardigans or fashionable ponchos and so many of your Fall sewing ideas!
---
Knit Jerseys:
Sewing with knits remains extremely popular. For our In-House Exhibition, we have two amazing animal print panels on high quality viscose jersey (Made in Germany!), as well as a terrific new collection of jacquard jerseys.
Let's go on a sewing safari!
Oh, the call of the wild! Exotic animal prints function as both wardrobe neutrals and bold statement prints. Swafing brings you an exciting leopard print in two colourways – grey or beige – in a 1.10 m panel featuring the leopard's head.
The dynamic zebra almost appears to leap from its black and white 1 m high panel. 94% cotton / 6% Elastane/Lycra blend, STANDARD 100 by OEKO-TEX® certified.
Shirt sewn from "Safari" panel "Zebra"; Form-fitting ladies' shirt from the book, "Nähen mit Jersey Klimpergross" by Pauline Dohmen/Klimperklein.
Viscose knit jerseys "Made in Germany"
Soft, draping viscose jerseys are just made for women's apparel. Viscose jerseys can be worn year-round, and, when using the right sewing pattern, are perfect for camouflaging a love handle or two. We will be offering three lovely viscose knit jerseys made in Germany at the In-House Exhibition.
"Marcel" – Made in Germany
Heathered grey viscose knit jersey featuring black and grey prints. Dots, scribbles, blossoms or watercolour stripes for understated elegance. 95% viscose / 5% Elastane/Lycra in five designs.
"Marcel", "Nils" and "Saskia" are certified according to STANDARD 100 by OEKO-TEX® Product Class II:
Please note, that for fabrics certified according to Product Class II, the certificates not been unloaded onto the Swafing Online Shop. We will provide copies of certification upon request.
"Nils" – Made in Germany
Viscose knit jersey works especially well for digital prints. "Nils" offers a fearless array of geometrics and abstract designs in bright fall colours. A simple surplice wrap dress is just waiting to become your new fall go-to piece. 97% viscose / 3% Elastane/Lycra in seven designs.
Design Example presented by OmaLie in "Nils"; sewing pattern "Top Lady Leana" from Mialuna. Certified to  STANDARD 100 by OEKO-TEX® Product Class II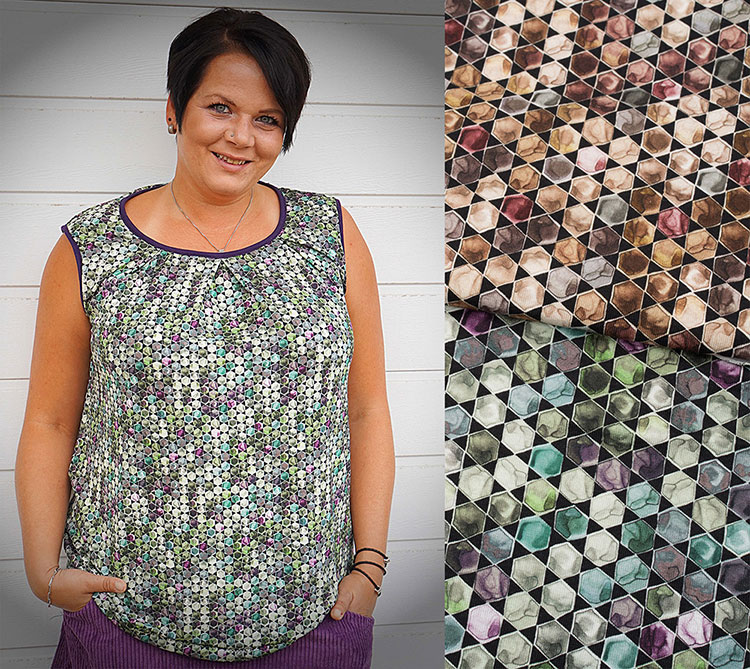 Viscose knit jersey "Saskia"
"Saskia" is somewhat heavier than regular viscose knit jersey and features a lovely hand and drape. This "Made in Germany" material has a somewhat shimmery surface and just feels so soft on the skin.
Choose from feathers, abstract forms or geometric bars in three colourways each.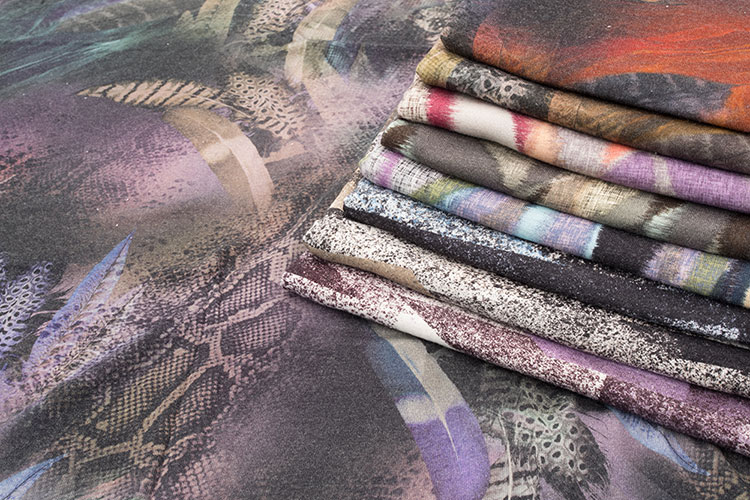 Design Example presented by OmaLie in "Saskia" 300253; sewing pattern "Ira" from Erbsünde. Certified to  STANDARD 100 by OEKO-TEX® Product Class II
"Gunda" Jacquard Jersey
Jacquard jersey is a type of double knit formed on two rows of loopers on the loom. The surface design is not printed, but rather created using different coloured yarns. Jacquard knitting machines allow for the creation of many very different designs and structures. The luxury appearance and delightful hand of a jacquard knit jersey is just captivating. This material works well for women's tops, pullovers, jackets and casual dresses, as well as for children's apparel items.
"Gunda" is a jacquard jersey collection of 17 fabrics that just lends itself to creative mixing and matching. "Gunda" includes stylized blossoms, a city skyline, darling kitty cats or nordic bears, which can be paired with your choice of small scale dots or geometrics. Something for everyone! STANDARD 100 by OEKO-TEX® certified.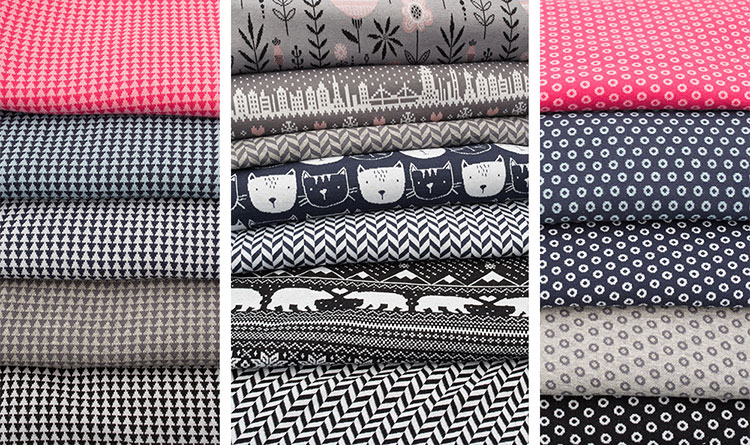 "Eleonore" Chenille Jersey
We have a brand new variety on offer at the In-House Exhibition. Chenille jersey "Eleonore" falls somewhere between a simple knit jersey and a sweatshirt jersey in weight. This fabric features modern blooms on a denim blue background. The fabric reverse is fully presentable and opens up a world of creative possibilities, such as reversible pieces or visible seam allowances.
Design Example sewn from "Eleonore"; long-sleeved sweatshirt sewing pattern from "Nähen macht glücklich" by Karin Ziegler/Blutgeschwister.
---
Softshell: Farbenmix Staaars, reflective softshell and super metallic prints
More and more sewists are turning to softshell – and for good reason! Softshell is easy to sew on a conventional sewing machine and, when using the right sewing pattern, you can create terrific pieces to weather whatever fall throws at you! Watching your little play in the puddles or collect the fallen leaves in all-weather pieces of your own creation is such a great feeling. In time for the In-House Exhibition, we have several very special softshell fabrics on offer.
"Arona" NANO Softshell featuring metallic foil print
This is the NANO Softshell for a bit of shine on grey days! Metallic foil printed V-formations of migrating birds in matching tones to the fabric – silver, blue or berry – add a bit of sparkle to your all-weather pieces. Choose from "Arona" in dark blue, berry or anthracite grey.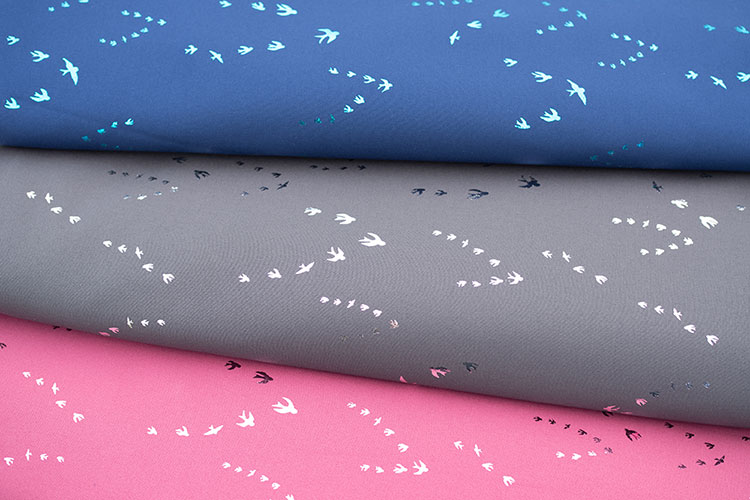 "Sonja" printed NANO Softshell with metallic foil print, as well!
You won't find a softshell like this just anywhere! NANO softshell "Sonja" is printed with striking abstract circles and then accented with shiny metallic foil print. This fabric comes to you on a dark grey background with blue-grey, mint green or dusty rose print.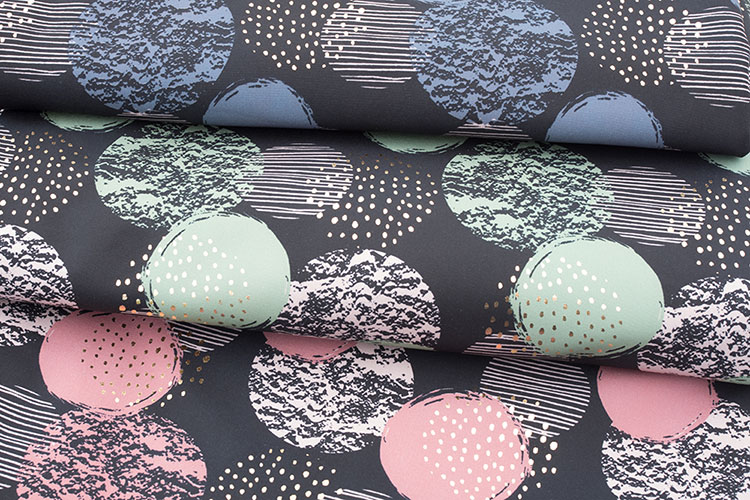 "Ponderó" reflective heathered NANO Softshell – Consider this!
"Ponderar" means to "consider" or "reflect" in Spanish. When we consider our children, reflective outerwear plays a significant role in their safety when out and about on darker days. Softshell jackets are perfect for keeping kids warm and dry, and the reflective print keeps them visible in car headlights on dark school mornings.
Watch the video and see for yourself!
When bright light is not shining directly on the material, the print appears matt silver-grey. On the left, the fabric is photographed in natural daylight and the print appears grey; on the right, we have used a flash and the same print appears bright glowing white. We have eight fabrics from which to choose with popular prints such as doodled arrows, scribbled hearts, dinosaurs and dotted camouflage.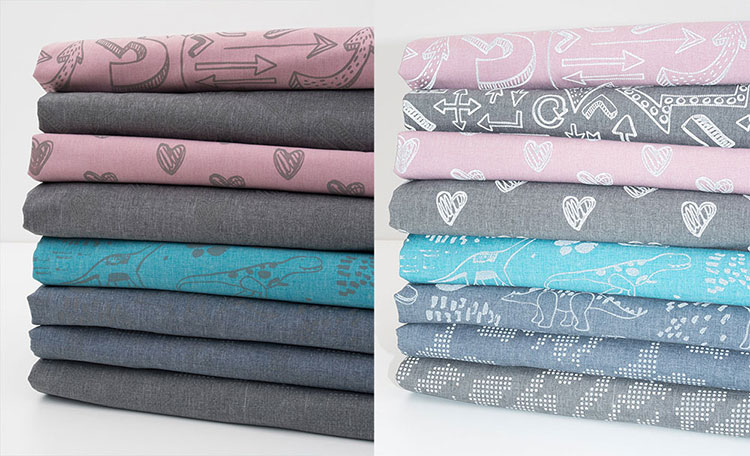 Design Example: Coat sewn from Pondero, Clyde and Shelly 1435; Sewing pattern "Nayla" from Meine Herzenswelt.
Mix and match these printed fabrics with heathered solid softshell "Shelly". Swafing's beloved Softshell returns to the In-House Exhibition – choose from eleven new colours! "Shelly" is a wind- and water-repellent softshell that offers a particularly high wearing comfort due to its Lycra/Elastane content.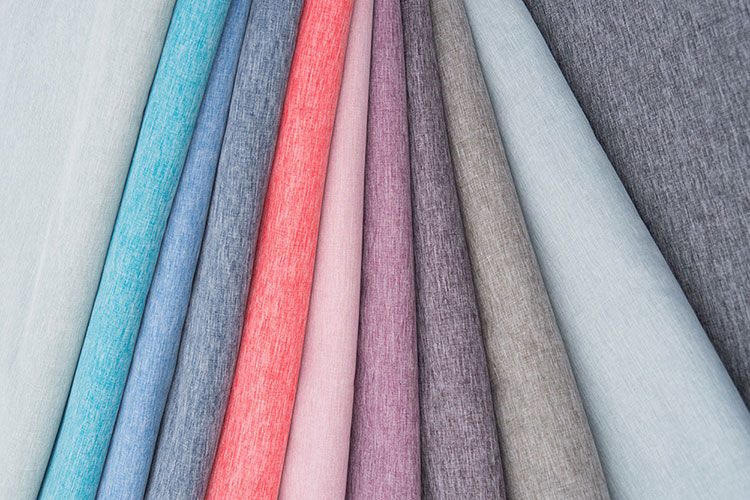 "Sheldon" NANO Softshell
Grrrrrr! Dinosaurs on the loose! This dino camo NANO Softshell design in teal blue, medium blue and brown/beige is just the thing for all your little paleontologists!
Staaars by Farbenmix
"Staaars" NANO Softshell is back by popular demand! This great material works as a neutral fabric with a little bit something extra for all your outerwear sewing. Pick up your bolts at the In-House Exhibition! "Staaars" Softshell features dark grey stars on a black background and a solid black reverse. Design Examples: Quinn & Yuki from Farbenmix.
Ottobre Kids 4/2015 / Model #05 "Colorful Rain"
---
New fabric variety: Honeyskin Canvas – beeswax coated fabric
Premiering at the In-House Exhibition for pre-order; delivery slated for the end of Oktober (solids) oder November 2018 (Retro Apples)
We are very excited to introduce a new variety of coated fabrics to our assortment: Be sure to check out our new cotton canvas treated with beeswax called Honeyskin. This treated cotton is simply a dream. The surface has a smooth, silky hand while not being sticky or waxy. It feels somewhat like dried oilskin. You'll just have to experience it for yourself! The beeswax coating renders this material dirt and water resistant.
byGraziela "Äpfel" ("apple") Honeyskin:
This darling byGraziela apple design with large-scale apples comes in three dreamy colour combinations: mint green/pink, yellow/red, and dark blue/green. The heart design works well as a main fabric, but also cut into strips as a bit of a ribbon accent. This cotton canvas comes to you treated with beeswax.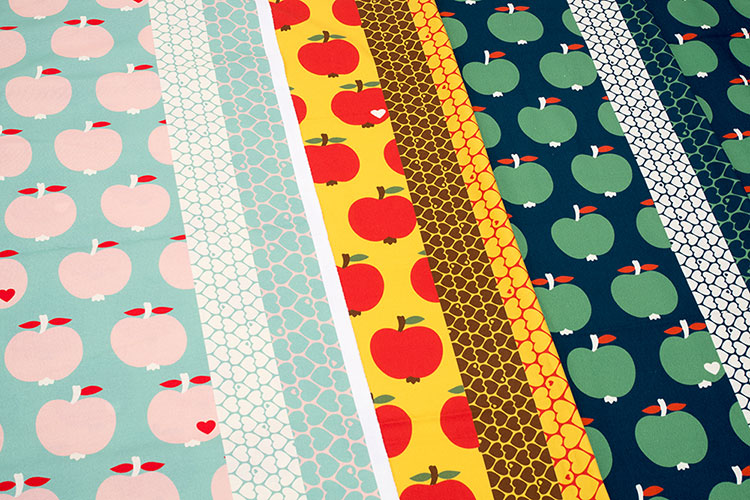 Honeyskin solids in seven colours: Get ready for this new fabric variety with a coating of beeswax. Choose from Honeyskin in off white, mint green, dark grey, black, mustard yellow, dusty rose and dark blue. Picture below shows the colours of the (yet uncoated) solids. In out collections tent we´ll have some coated samples for you to see & feel!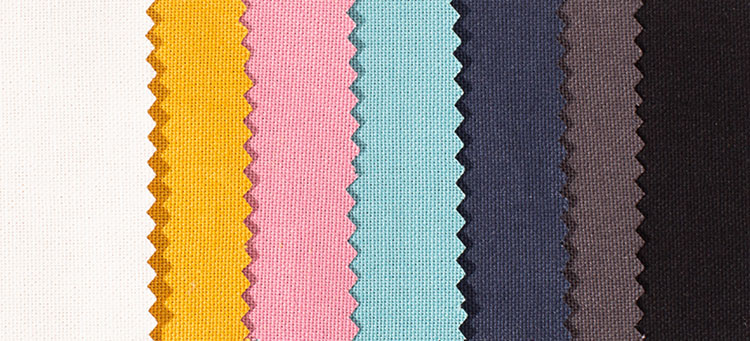 ---
Vintage-look faux leather "Mora" and quilted faux leather "Jutta"
"Mora" is a delightful heavyweight faux leather with a bit of that beloved worn-in look. This soft, pliable material comes to you in five colours. And we are so pleased to be able to offer "Mora" in our standard assortment from now on.
"Mora" goes great with quilted faux leather "Jutta", which is the same faux leather material, however with quilted stitching lines embossed on the surface. If you like our cloth handbag fabric "Moskau", you are going to love "Jutta". While we will be offering "Mora" in our standard assortment, "Jutta" will only be available at our In-House Exhibition and only while supplies last!
---
Our friendly Swafing team members will be right there for you to answer your questions and help in any way we can.
You last-minute stragglers are also more than welcome to join us at the In-House Exhibition!
You don't need a special invitation: An active customer account and your customer number is all you need to join the fun.
If you did not already complete your first purchase with us or have any other questions, please contact your sales representative or call the main office:
+49 5921 3053-0.
We look forward to seeing you!
---
More highlighted fabrics:
Designer Fabrics for the Swafing In-House Exhibition:
"Designer Edition" Book Fabrics:
Designer Panel Fabrics from Kaeselotti & Lycklig Design: