How did you like the  Designer Fabrics for the Swafing In-House Exhibition?  Lila-Lotta Wild Glorie & Wild Marley  •  Jolijou Space Travels & Lucky Stars  •  Cherry Picking Hundred Leaves. To help write up your shopping list and help to whet your customers' creative appetite, we're here today to show you a few more exciting highlights.
The highlighted fabrics being premiered at the In-House Exhibition will only be available for sale on site in Nordhorn to our visiting customers during the week of the exhibition. We will not be accepting orders by telephone, nor over the Internet, nor will we reserve any product for later sale.Several of the fabrics made available during the exhibition will be available for ordering in the weeks following in the Swafing Online Shop and may be ordered at that time. While supplies last, remaining highlight fabrics will become available for purchase in the Swafing Onlineshop once the In-House Exhibition has come to an end.
New Knit Ribbing "Karla" and "Heike" now available in Heather
Jacquard knit ribbing "Karla" – we have been searching high and low for a patterned circular knit ribbing without any irritating knot ends. Finally we found the answer to our prayers in knit ribbing "Karla".
Karla is a very special jacquard knit ribbing: The design is not printed, but knitted directly in the tubular fabric. This creates a seamless transition all around.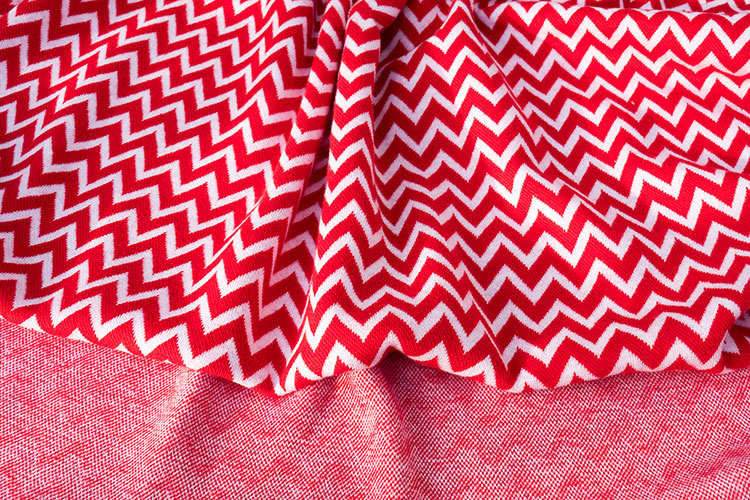 This high-quality, yarn-dyed knit comes to you in no less than 45 variations. Choose from dots, Swiss crosses or chevron designs in 15 inspiring colourways. This patterned cotton blend jacquard knit ribbing with 5% Lycra/Elastane stretch will be available from the Swafing In-House Exhibition. Karla weighs in at 260 g / m² and is 100 cm (across the tube). Certified according to "Confidence in Textiles"/Oeko-Tex Standard 100!

"Heike" Heather in many more colours!
Heike heather is now available not only in the two classic shades of gray, but also in 12 new colours for more creativity, everything from anthracite grey, to off white, putty,, pretty pink and burgundy, to dreamy blues and greens! Fan favourite heather "Heike", and, as you've come to expect, manufactured according to "Confidence in Textile"/ Oekotex Standard 100.
---
Creativity by the meter! Swafing's New Washable, Sewable Leather-Look and Metallic Paper "Kreativpapier"
We love fabric–that's no secret. But we're not above pushing the envelope a bit and offering you alternative creative materials. Sewable and even washable paper is now available by the running meter at Swafing.
Handicrafts, stamping, collage, die cutting, even sewing…all this and more is possible with Swafing's new creative paper.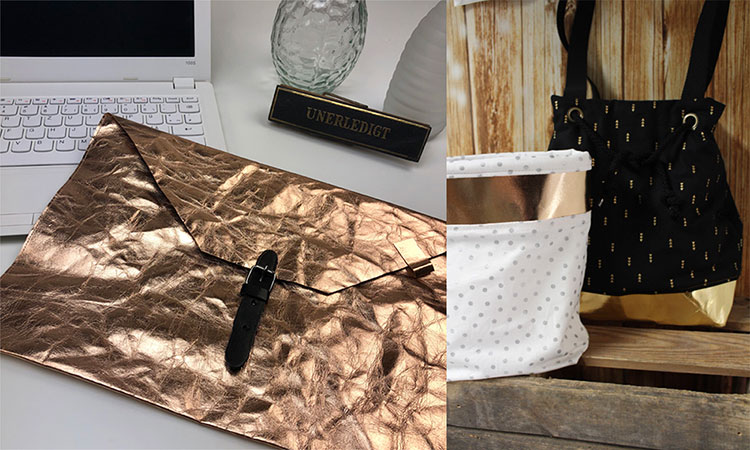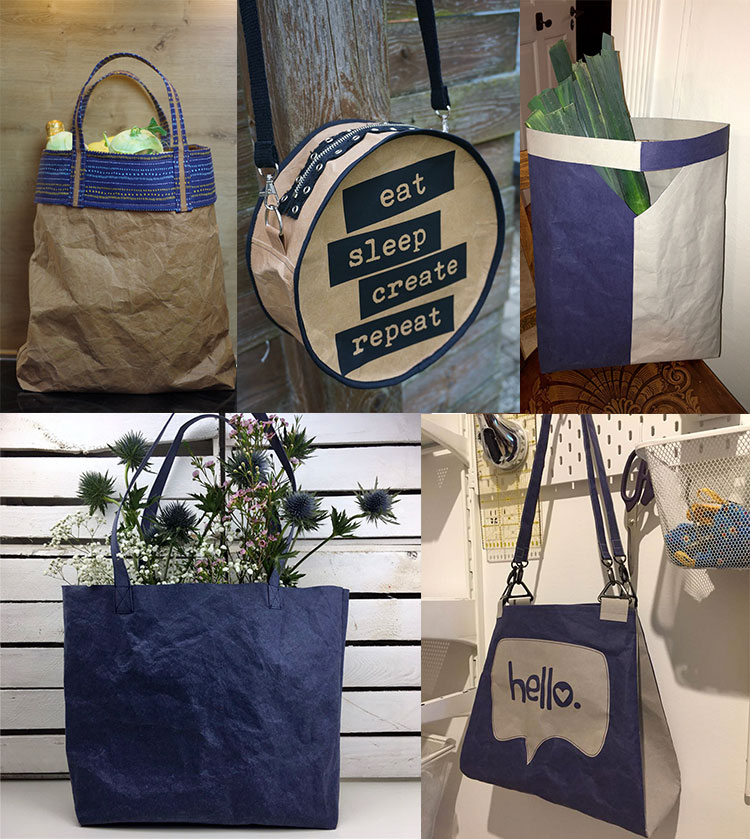 Swafing creative papers come to you on the roll in two variations: trendy leather-look and shiny metallic. Leather-look paper "1" and creative paper with a metallic finish are both 75 cm wide on the roll; creative paper "2" is 63 cm wide.
Important: Creative papers "1" and "2" are washable. Creative papers with a metallic finish must NOT be washed.
Moistening creative papers will make them easier to work with on your sewing machine. Our metallic finish creative paper should never be washed, however, you may moisten or steam the back of the paper lightly while working with it. You may also crumple and flatten out our creative paper while wet to create an interesting texture.
We hope you enjoy our new creative paper!
---
MAGIC soft shell Iris

It's magic! "Iris" is our new, fascinating magic soft shell fabric, that changes colours when wet. Watch the video and see for yourself!
When dry, "Iris" features lovely white stars. But after the rain comes a rainbow! Just add water and watch those pretty white stars transform into a rainbow of colours before your eyes. The stars remain rainbow hued until "Iris" has once again dried. Nano soft shell "Iris" protects the wearer from wind and rain and does not require an extra lining due to the soft fleece reverse. Soft shell "Iris" comes in two colourways: grey with a pink reverse and dark blue with a medium blue reverse – each with white stars that magically transform into little rainbows! Pre-order yours at the Swafing In-House Exhibition. Delivery expected mid-May 2018!
---
Celebrating a Comeback: Your Favourite Fabrics in New Colors
MARVIN — At the Swafing In-house Exhibition in February, check out many brand new fabrics, as well as some past favourites in fresh, new colours. "Marvin" is a fantastic looking lighter weight knit sweatshirt jersey. This 100% cotton trendy French terry is making a comeback: We'll be stocking the three colours you've come to love, as well as 10 beautiful new colors. "Marvin" has a wonderful hand and is ideal for sweaters, knit jackets and hoodies!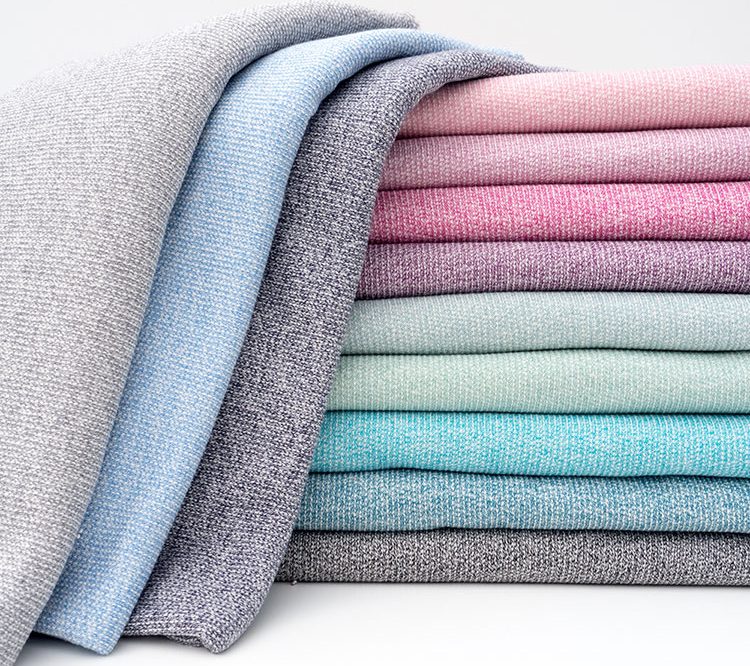 In addition to "Marvin", be sure to keep an eye out for many other of your favourite celebrating a comeback in time for the Swafing In-House Exhibition: Check out viscose knit "Kai" in 7 fresh new colours, jeans-look jersey "Austin" in pretty spring colours, as well as wishlist fabric "Shelly" soft shell, also coming to you in a generous array of new colours!
Viscose knit "Kai" is a nice, soft and pleasant to wear knit. "Kai" comes to you this season in top-trending colours and is just great for making sweatshirts, vests, cardigans or fashionable ponchos. "Kai" is being offered in the four popular colours you remember, as well as seven new ones!
Soft shell "Shelly"– "Shelly" is back! Swafing's beloved Softshell returns to the In-House Exhibition – in addition to four favourite colours from last season, choose from seven brand new colours! "Shelly" is a wind- and water-repellent softshell that offers a particularly high wearing comfort due to its Lycra/Elastane content.
AUSTIN: A few weeks ago, we introduced you to jeans-look knit jersey Austin. For- Swafing's In-house Exhibition, we are offering six new colours of this attractive and versatile knit jersey. Included: trendy spring colours, as well as great all-rounders light gray and black.

---
Swafing Knit Jerseys Coming to the In-House Exhibition
Ready for some new Swafing knit jerseys?
"Vicente Retro" Flashback: Coming to the Swafing In-House Exhibition!

Swedish Dala horses, silly monkeys and giraffes and colourful cars! We are offering once again these four fan favourite "Vicente" designs in fun colourways. Our best Swafing quality "Confidence in Textiles"/Oeko-Tex Standard 100.
For our In-House Exhibition, we have lined up an assortment of delightful knit jerseys, including stripes in spring-fresh colors ("Billy") and a dreamy heather stripes with the matching melange solids ("Hameln" & "Goslar"), as well as two summer slub knit jerseys ("Miami" & "Leno") in a super-trendy destroyed look.
Of course, we have a bunch of cool new prints for you: For your little ones, we have "Let's fly away" flecked jerseys featuring airplanes.
Jersey "Malin": How fun is this? A totally cool panel and a bunch of fun designs for boys and girls!
Cotton knit jersey "Malin" has something for everyone! This panel featuring a gnarly surfer bear clues you in to the perfect combo fabrics. Hibiscus flowers are picked up from his board shorts and his single fin thruster mirrors the bold red-and-white stripe fabric!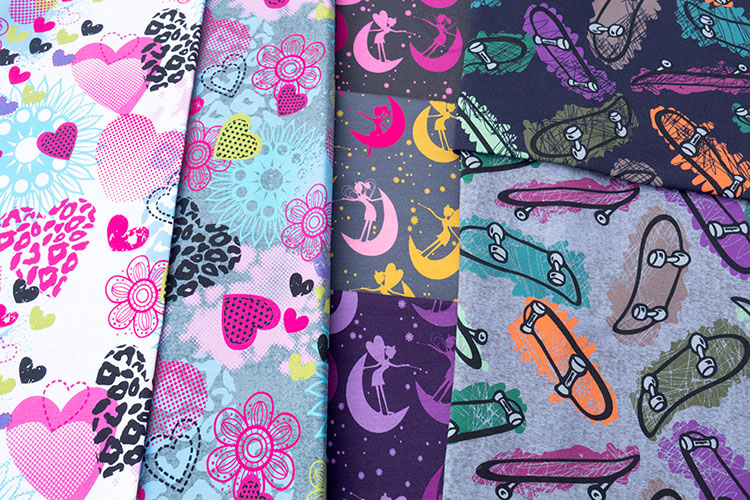 Knit Jersey Tammy
This printed striped pattern with dots, crosshatches and doodles was particularly appealing to us. So very cool also with the Eiffel Tower, too. Bring a bit of La Ville-Lumière to your wardrobe with Jersey Tammy by Swafing!
Jersey Tammy featuring stripes and the Eiffel Tower, cotton blend knit jersey with Lycra/Elastane, "Confidence in Textiles"/Oeko-Tex Standard 100 certified.
Jeans-look Jacquard Knit Jersey with one chevron stripe side
"Mauri" is a special treat: a jacquard jersey with the appearance of denim and one side featuring a subtle chevron stripe. Use the chevron side as an accent on cuffs or edges, or combine the fabric right side and reverse side anyway which way your imagination deems fit! "Mauri" is available in black and dark blue, each with ecru white. Cotton blend with 5% Elastane.
---
New Sweatshirt fabrics coming to the Swafing In-House Exhibition
We can't forget sweatshirt jerseys, right? This time around we have especially lovely items in stock!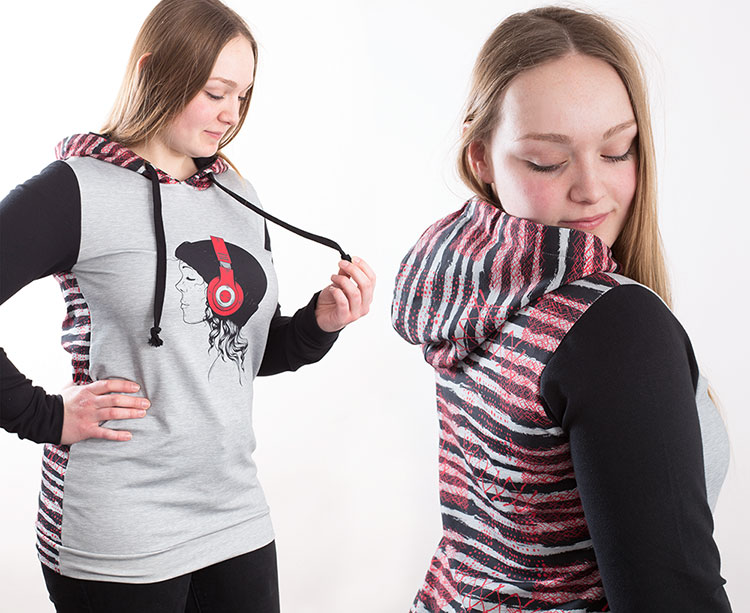 French terry "Patty" comes to you in brand new designs to fit every body and every taste: The sweatshirt jersey panel featuring a girl rockin' out on her headphones is a total eye-catcher. This trendy panel comes to you on a grainy background, which is the basis for the black, grey and red combo fabric. The panel measures 90 cm and can be used for many women's sizes (shown here, EU size 38/US 8).
Flamingos are back! Or were they ever gone? This spring, look for these bold birds at Swafing standing among monstera leaves, hibiscus blooms and black and white stripes on sweatshirt knit "Patty". Just the right mix of colour and tropical flair for old and young.
Keep an eye out for other designs: Sweatshirt jersey "Patty" featuring construction vehicles in dark blue and taupe colourways, and burrowing moles on goldenrod and teal blue (not pictured).
Cotton blend French terry sweatshirt jersey "Patty" with 5% Lycra/Elastane; "Confidence in Textiles"/Oeko-Tex Standard 100 certified.
Doodled Chequerboard Sweatshirt Jersey "Rick"
"Rick" really brings the colour! A whole rainbow, including several pink tones, as well as black, brown and light gray. Mix and match to your heart's content with all your favourite hues. The scribbled checkerboard design adds a bit of interest to your hoodies, sweatshirts, loungewear and so much more! Just the thing for those who do not particularly care for conspicuous prints, but find plain solids a bit lacking. Perfect for men, women and kids! Cotton with 5% elastane, Oeko-Tex Standard 100.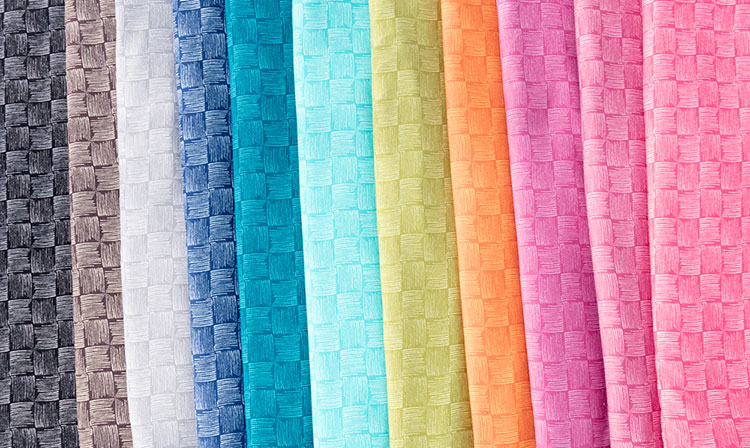 ---
Woven and blouse fabrics
Wovens – Made in Germany!
High quality cotton poplin – Made in Germany! "Florian" proved so very popular at the last In-House Exhibition, that we decided to bring it back in new colors and design this February! Shirts and blouses, skirts, dresses, bags, pillows … the possibilities are endless! This versatile material mixes and matches like a dream: mix patterns and colours to your heart's content and create your very own "Florian" spring fashion collection!
Blouse fabrics with Lurex: Viscose prints "Melanie" and "Melinda"
The 80s are back! Not to worry, though! With the wisdom of hindsight, we can recognize the fashion faux pas of the past and pick out the very best trends to update. Fabrics with a bit of gold Lurex were among the most beautiful trends this decade had to offer. "Melanie" and "Melinda" feature fine gold threads woven throughout in this wonderful viscose woven material. Just lovely for delicate blouses and lightweight shawls!
Woven viscose shirting with Lurex: "Melanie" in 6 delicate pastel colors and "Melinda" in three beautiful flower prints or in the trendy watercolor style.
"Anina": Cotton prints in new designs!
"Anina" is a nice, new cotton collection assortment featuring several darling different designs. Flamingos and fun fruits, woodland bears and geometric patterns, cute kangaroos in light blue and pink, a mini collection featuring pretty roses and raindrops, and beautiful designs with swallows and the flora and fauna of South America are here for you to discover at our In-House Exhibition!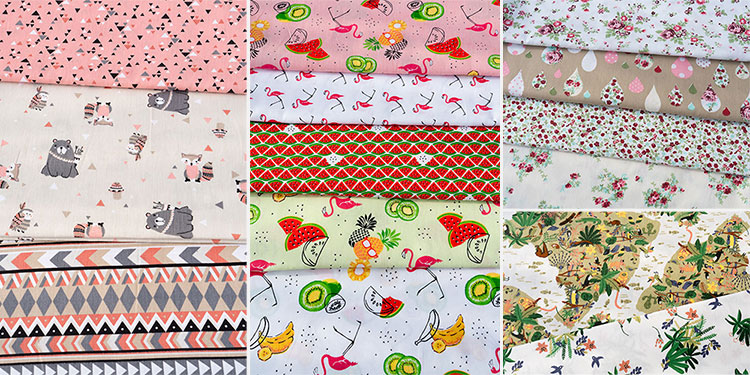 Decorator fabric "Mali": Tropical plants, flowers and flamingos are very popular interior design motifs. Here we have a bit of everything in this very special diamond pattern repeat. Try your hand at the shopping bag sewing pattern "Milly" from Pattydoo with this bold new décor weight material.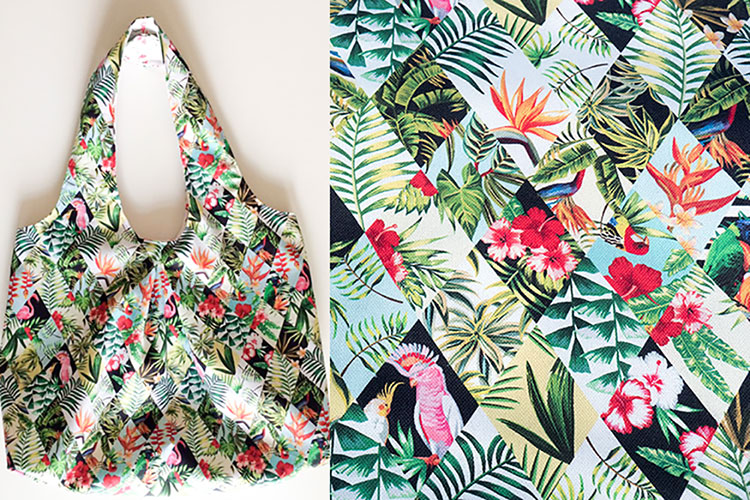 ---
We look forward to seeing you at our Open House!