How did you like the Designer Fabrics for the Swafing In-House Exhibition and the STEINBECK Fabrics?  To help write up your shopping list and help to whet your customers' creative appetite, we're here today to show you a few more exciting highlights for our upcoming february in-House Exhibition!
Please take note: We have changed our hours for the Swafing In-House Exhibition February 2019!

Our In-House Exhibition will begin on Wednesday, February 13th, and end on Saturday, February 16th.
Wednesday – Saturday, 9:00 am to 5:00 pm
Our exclusive Exhibition Highlights will only be made available starting WEDNESDAY.
---
In-house Exhibition fabrics—available only at the Swafing In-house Exhibition in Nordhorn, Germany! Unless otherwise noted, all fabrics are available for purchase directly from our warehouse–only while supplies last!
The exception proves the rule:
"Schweinhorn" Preorder is available at the Swafing In-House Exhibition and online for pre-order starting February 13th. 
We're sorry, be we will not be accepting any telephone or email orders for these fabrics and will not place any stock on hold. Following the Exhibition, any remaining stock will be listed in the Swafing Online Shop and may be purchased there on a first-come, first-served basis.
---
Swafing In-House Exhibition Highlights:
Knit Jersey Fabrics at the Swafing In-House Exhibition
Aren't we all looking forward to when the mercury starts to rise and we can start to wear less layers and short sleeves? Knit jersey cotton blends with 5% Elastane/Lycra are perfect for t-shirts, casual dresses, leggings, long-sleeved tees and so much more. We're bringing a wide array of motifs and designs—something for everyone. And, as you've come to expect from Swafing, these knit jerseys are STANDARD 100 by OEKO-TEX® certified.
Knit Jersey Jonne
Maybe you've already seen "Jonne": We featured this enchanting springtime design printed on cotton blend knit jersey on our In-House Exhibition invitation. Flowers, flowers, flowers as far as the eye can see!

Florals are an absolute must-have: Check out the little birds flitting about the roses. And don't miss these great knit jersey stripes with summer-y watermelons and two designs featuring wishing dandelions.
Cotton blend knit jersey "Luke" is one a fun and colourful fabric for boys and girls. What about a mommy-and-me look featuring bright flamingoes? This design featuring the colourful birds and either black and white stripes or blue and white stripes comes in both large and smaller scale. Big flamingoes for mommy and little ones for her Mini-Me.
Sharks and surfers work for anybody who loves the seashore.
Other fabrics in this series include even more flamingoes, darling mice and silly raccoons in mint green and grey colourways.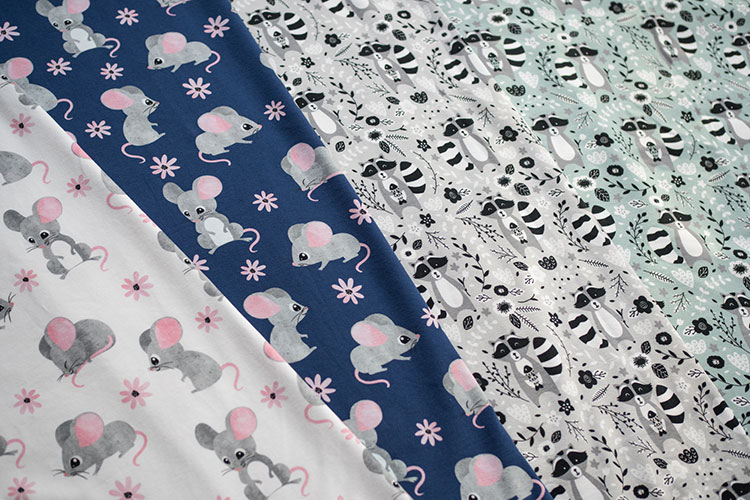 ---
Cotton knit jersey "Vera" takes us Down Under! The silly kangaroos hop and jump all over these adorable knit jerseys on either light blue or pink. Where there is one ant…there is two and three and … an army is sure to follow! The perfect fabric for all those aspiring little entomologists out there!
---
Made in Germany!
Viscose knit jersey Phinchen – Made in Germany
"Made in Germany": Those words mean quality the world over. "Phinchen" will awaken a bit of spring fever. This wonderfully soft viscose knit jersey features palm fronds and is complimented perfectly by the companion fabric in a batik denim look. Bright summer colours for young and young-at-heart. Viscose knit jersey with 3% Elastane in nine colourways. STANDARD 100 by OEKO-TEX® certified.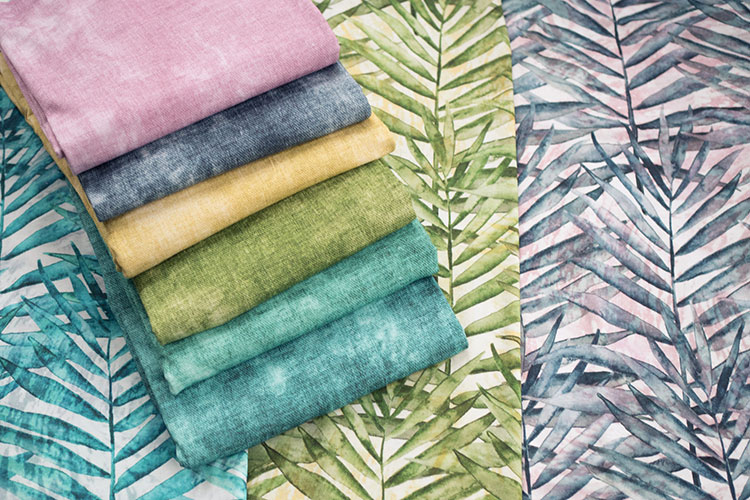 Cotton woven "Florian" – Made in Germany
Our high-quality cotton poplin "Florian" comes to you this spring 2019 safari chic. The elephants appear almost hand-printed and the giraffes are accented in complementary hues. These really lovely, subtle designs come to you in the colour palettes mint green, dark grey, khaki and violet. "Florian" makes beautiful blouses, tops, skirts, dresses, throw pillows, table fashions and bedding. STANDARD 100 by OEKO-TEX® certified.
---
Cotton & Viscose Wovens
Cotton Woven Franziska
"Franziska" is our really wonderful In-House Exhibition woven series. Look for these four small scale designs with gingko leaves, stars, geometrics and circles, each in dark blue, dusty rose and coral.
As seen on the newest Book of Pauline Dohmen / Klimperklein (coming March, 11th, 2019):
---
Very soon, it will be time to stow away these heavy winter togs and slip into breezy summer blouses and dresses. Swafing's viscose wovens are perfect for all your warmer weather fashions. 100% viscose STANDARD 100 by OEKO-TEX® certified.
Viscose woven "Marlene" is a new take on leopard print and comes to you in two bold and trendy colourways: Choose either olive green and turquoise or brown with pink and bright red accents. Or better yet, sew up new wardrobe favorites from both!
Very chic! "Daisy" is a woven viscose featuring no daisies, but rather tulips, hydrangeas, roses and a paisley design in muted greys and pink tones on black and beige.
---
Metallic-Look Decorator Fabric "Merlin"
We simply could not resist these decorator fabrics in black, off-white and gold, and we don't think you will be able to either! These sturdy fabrics featuring geometric designs mix and match with each other and will work well for upholstery projects, window fashions, handbags and so much more!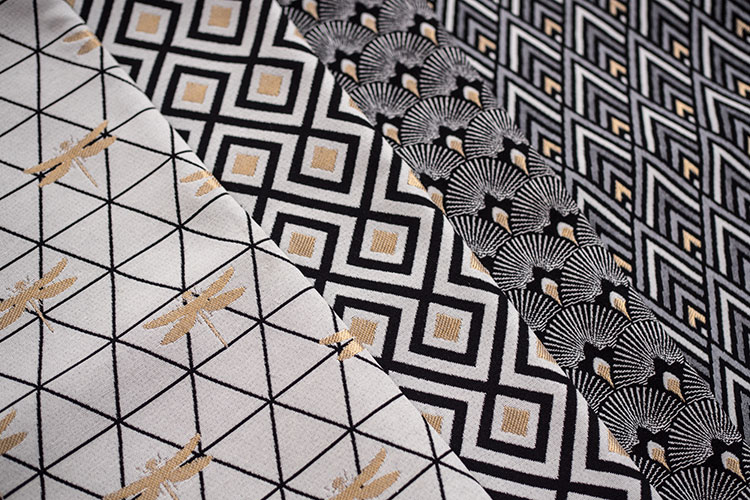 ---
Enjoy a relaxed shopping experience including many more highlights:
• Fall/Winter 2019/20 Collection
• High-quality, on-trend fabrics
• New and exclusive fabric collections
• Proven, high-quality basic fabrics in the most current colourways
---
Our friendly Swafing team members will be right there for you to answer your questions and help in any way we can.
You last-minute stragglers are also more than welcome to join us at the In-House Exhibition!
You don't need a special invitation: An active customer account and your customer number is all you need to join the fun.
If you did not already complete your first purchase with us or have any other questions, please contact your sales representative or call the main office:
+49 5921 3053-0.
We look forward to seeing you!
---
Parking! Important information!
Please note that the parking area in front of the Swafing offices is for loading and unloading only! Swafing customers are NO LONGER ALLOWED to park in the parking lot across the street from the Swafing offices. DO NOT park your vehicle in the parking lot opposite our offices. Kindly park ONLY in the public swimming pool parking lot. This parking lot is just a short walk to our In-House Exhibition. Just follow the signs!
Please park your vehicle here:
Freibad Nordhorn
Wehrmaate 24
48531 Nordhorn
Follow this map link:  https://www.google.com/maps?daddr=Wehrmaate+24+48531+Nordhorn
---
More highlighted fabrics: