TV Sewing Contest "Geschickt eingefaedelt" – Condensed English Translation
Publiziert am 22. Oktober 2015
In anticipation of  Vox network's "Geschickt eingefädelt – Wer näht am besten" (the German version of the U.K.'s "Sewing Bee"), here on our blog we will introduce the panel of judges and the contestants, so that for the November 3rd premier you will already be in the know! Tune in Tuesday evenings at 7:15 GMT and watch 8 contestants sew their way through the different challenges given by the panel of celebrity judges.
For our English-language readers, we have here a condensed translation.  Perhaps you have a way to tune in, as well!
Panel of Judges: Host and celebrity designer Guido Maria Kretschmer will be joined by master tailor Inge Szoltysik-Sparrer, and designer Anke Müller!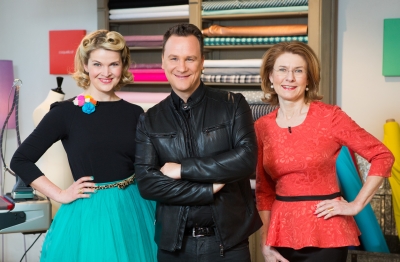 ---
Guido Maria Kretschmer
It all began for 51-year-old Guido Maria Kretschmer at the age of nine, when he received his first sewing machine as a gift. He recognized early on that his passion for textiles and design would set him on a life path in fashion. In 1989, he created his first label, Guido Maria Kretschmer Corporate Fashion, headquartered in Münster and Palma de Mallorca. By 2004, he fulfilled a lifelong dream and founded the fashion label Guido Maria Kretschmer Couture. In no time, "the German Valentiono" established himself as one of Germany's leading fashion designers. Kretschmer's work is unique, exciting and confident.  Kretschmer's timeless style is equal parts glamour and sensuality. Since 2012, Kretschmer has made himself a household by appearing on German television as the likable and competent stylist on Vox's award-winning "Shopping Queen".  For"Geschickt eingefädelt – Wer näht am besten?", Kretschmer is our host and head judge.
---
Anke Müller
39-year-old Anke Müller discovered her creative aptitude early on and won a Burda sewing competion at 18. Müller followed her calling and upon graduating from German high school, enrolled at a fashion design school in Stuttgart. Upon completion, she took a position as a trainee in the fashion capital of New York and designed for Wacoal America licensed designs for DKNY and Donna Karan Lingerie. Müller says of her time there, "New York was a wonderful experience, I learned the most there." Missing her homeland, Müller returned to Germany in 1999 and worked for the firm Triumph. While working there, she got an offer to design lingerie, swimwear and loungewear under license for Marc O'Polo. She took the offer and stayed with Marc O'Polo until 2002. Müller started her own business, Cherry Picking, almost on a whim. While on holiday in 2002, she and her husband decided then and there to start their own company, "The day came, I was enjoying a beautiful vacation with my husband, and then from one moment to the next, we had decided we would set out on our own!" She handed in her notice while still on holiday and as soon as she got back home, got Cherry Picking off the ground. And cherry picking is just what Müller does, "I do exactly that. It's not business necessarily, but wonderful things, that are something special." Müller has remained faithful to her specialty of lingerie and loungewear. Besides her responsibilities to her firm, this mother to an 8-year-old son is very active in the DIY community. Müller is both a trendspotter and trendsetter, offers sewing enthusiasts in Germany, France and the U.K. her many DIY ideas and projects, as well as her very own fabric designs.
---
Inge Szoltysik-Sparrer
56-year-old Inge Szoltysik-Sparrer's passion for sewing began already at the tender age of four. Even then she knew she wanted to grow up to be a seamstress. Upon completing her apprenticeship, Szoltysik-Sparrer passed her German master tailor's exam on December 3, 1981. The very next day, she opened her own atelier and soon gained an reputation for excellence in the field. Szoltysik-Sparrer has this to say about opening up her own shop: "By opening my own atelier, I fulfilled a dream. In this business, it is not only creativity, but knowing your customer that plays an important role. I can feel it in my bones how very much my customers long for an alternative to overpriced designer clothing and cheap imported apparel."